Here Are the People Who Wanted Shinseki Fired but Didn't Vote for VA Funds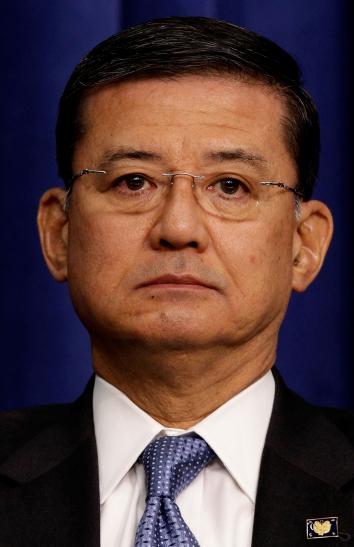 The Atlantic Wire has assembled a list of everyone in Congress who called for Department of Veterans Affairs Secretary Eric Shinseki to resign after reports of gross incompetence at VA hospitals across the country. ("Systematic delays" in veterans' health services was the polite way of saying veterans died waiting for care.) Members on both sides of the aisle wanted Shinseki's head.
But some of these hecklers themselves aren't so blameless. In 2013 many of them voted against the appropriations bill (later passed) that increased funds to the Veterans Benefits Administration, granted money for construction of state extended care facilities, and released funds to operations of Defense Department/VA medical facilities. Though this was part of a larger bill that covered other sectors, it contained significant appropriations for VA spending. It provided $133.9 billion in budget authority for the VA as a whole, including $72.9 billion in mandatory funding and $61 billion in discretionary funding. It confirmed a 2009 pledge to provide $54.5 billion in "advance appropriations for the three medical care accounts (medical services, medical support and compliance, and medical facilities)" for the 2014 fiscal year.
Of the 14 Republican senators who have called for Shinseki's ousting, 11 voted "no" on the bill. (All Democratic senators but one voted in favor.) This was true even though the bill's House sponsor was Kentucky Republican Hal Rogers. Among Rogers' Republican colleagues, Rep. Scott DesJarlais, who has called for Shinseki to step down, voted "no," as did Democratic Reps. Tammy Duckworth, Derek Kilmer, Bruce Braley, Jerry McNerney, and Rick Nolan. (Reps. Kilmer, Duckworth, McNerney, and McCarthy voted for a subsequent version of the bill the increased VA funding several weeks later.)*
Veterans groups have been decrying that the VA has been chronically underfunded for years. Though there's a slew of reasons for the VA's awful failures on this front, one can't help but think that voting against giving the agency much-needed resources, then crying bloody murder over Shinseki's role, smacks of hypocrisy.
Update May 30, 2014: Here is the list of Senators who voted nay:
Richard Burr (R-NC), Jeff Flake (R-AZ), Rob Portman (R-OH), John McCain (R-AZ), Tim Scott (R-SC), Marco Rubio (R-FL), Jerry Moran (R-KS), Pat Roberts (R-KS), Deb Fischer (R-NE), Dean Heller (R-NV), Kelly Ayotte (R-NH)
*Update June 2, 2014: This post has been updated to clarify that Reps. Kilmer, Duckworth, McNerney, and McCarthy later supported the bill in a subsequent vote taken on March 21, 2013.