Eric Shinseki is Resigning. Here's Who Made That Happen.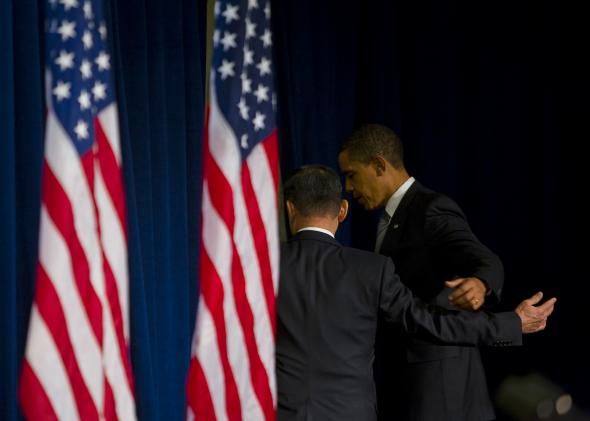 Well, not to be glib -- obviously, the waitlists and alleged fraud at the VA hospitals in Phoenix and elsewhere "made" Eric Shinseki quit the leadership of the Veterans Affairs Administration. But this story and this scandal went from obscurity to an unavoidable conclusion in a matter, it seemed, of weeks.
Rep. David Scott. The little-covered Georgia member of the Congressional Black Caucus had been calling for Shinseki's head since the summer of 2013 after a brutal IG report on a local hospital. "He hasn't even shown up," said Scott of Shinseki. Imagine if he'd reacted then.
Journalists. It's one of the only happy sidebars of the story -- CNN correspondent Drew Griffin, who was working the VA story when most everyone else was napping, said the network's 24/7 coverage of the Malaysian plane "bought him time" to dig. I said "most everyone else" because the Washington Examiner's reporter Mark Flatten reported on VA wait times back in the winter of 2013. The story was there, and traditional reporting started to uncover it before the world showed up.
Concerned Veterans for America. The heretofore-obscure group, founded by Republican activist and former candidate Pete Hegseth, stormed the national conversation by calling for Shinseki to go and organizing awareness-building events in Phoenix. For its troubles, an organization funded in part by the Koch network got to debut as a non-partisan "key veterans organization."
Sen. John McCain. He held fast for days as other, more recognizably partisan members of the congressional GOP attacked Shinseki. He waited until an IG report officially damned the conduct in Phoenix before calling for Shinseki to go. Once he did so, as much as his continuing clout might bug Democrats, Shinseki was running down the clock.
A whole bunch of Democratic congressmen. McCain's more-in-sorrow-than-anger denunciation of Shinseki effectively burst the dam, and Democrats in tight races -- or Democrats, who know, believed in this -- scrambled to get ahead of Shinseki. By National Journal's count no less than 40 congressional Democrats had asked him to resign, a nearly 1-2 ratio with the number of Republicans who wanted the same. No offense to Republicans, but it didn't matter to the administration when most of them called for Eric Holder to quit, or censured him.
What's next? Rank partisanship! The House reacted quickly to the VA scandal by passing the "VA Accountability Act," legislation that would make it easier for the department to fire people; Republicans are now campaigning against Democrats (like Alaska Sen. Mark Begich) because the Senate won't vote on this. Senate Democrats would prefer to talk about the extra VA funding they couldn't get past the GOP, given that the problem at the VA escalated when new patients surged and funding didn't.
It's all terribly ironic. Shinseki became a hero to Democrats by warning the Bush administration that Iraq would be a disaster. He took over the VA after tens of thousands of new veterans had been added to the system -- he then introduced a mandate that any vet asking for care would get it in 14 days.