If Republicans Have Bad Candidates, It's the Democrats' Fault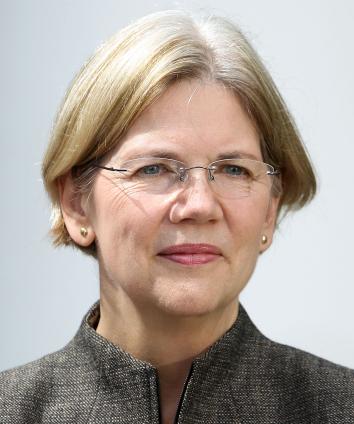 Earlier this week the National Republican Senatorial Committee crowed about an Oregon Democratic Party that was clearly panicking. Massachusetts Sen. Elizabeth Warren, one of the most popular figures in the party, was heading to the state to raise funds for Sen. Jeff Merkley—or, in the NRSC's words, to "try and rescue the increasingly vulnerable Sen. Merkely (sic) and help stuff his campaign coffers."
It's no surprise that Jeff Merkley would reach out to Elizabeth Warren is such desperate times. Warren is a master of the nasty tactics Merkley is embracing in his first reelect, frequently using violent, divisive, and partisan rhetoric. Warren is famous for using"unnecessarily aggressive" rhetoric remarking that she would leave "plenty of blood and teeth left on the floor." Worse, Warren promises to "throw rocks" at people with whom she disagrees with. Even a leading Democratic think tank called Warren's message"catastrophically anti-business."
I'm fond of campaign messaging that assumes reporters are deeply stupid. There's no mention here, for example, that Warren's "aggressive rhetoric" was aimed at bank lobbyists—those beloved tribunes of the people. No mention of why using metaphors for "fighting" was out of bounds. No logic at all, really. Warren was traveling to a state that gave Barack Obama a 12-point win in 2012 and had not gone Republican at the presidential level since 1984. Why was her appearance supposed to hurt Merkley? What was the evidence that Oregonians didn't like her?
And where was the evidence that Merkley was "increasingly vulnerable"? Good question. A new Public Policy Polling survey, the first since doctor Monica Wehby won the Republican primary to face Merkley, gives the first-term incumbent a 14-point lead. Every poll in the race, minus a Daily Caller survey that put Wehby out front by 4 points, has given Merkley a double-digit lead. Wehby was entering a five-and-a-half-month general election with a favorable rating of 26 points and unfavorable rating of 40 points. One problem is that most (59 percent) voters were aware of reports that an ex-boyfriend (now donor) of Wehby once accused her of "stalking" him.
Republicans have generally reacted to that story by accusing Democrats of a "war on women." (This is not to be confused with the 2013 allegations of a "war on women," after several unconnected Democrats were tripped up by sex scandals.) Kimberley Strassel, the Wall Street Journal columnist who reliably and usefully conveys what Washington Republicans are thinking, put it this way:
Some conservative commentators have noted that this is the Democratic "war on women," but that doesn't give near enough credit to what is a broader and now-staple Democratic strategy. When faced with a Republican who they cannot beat on policy questions, Democrats move to character assassination. It gives them something to say, while softening up voters to believe their worst accusations about the GOP. The assault is particularly vicious against a Republican woman or minority who threatens to pull votes from their base.
In this, they are exactly like everyone who has ever run a campaign against anyone. (For insights like these, Strassel will be a 2014 recipient of the $250,000 Bradley Prize.) But Republicans want the press to find a new narrative, one in which their increasingly diverse party is going to radically change how it looks. Rep. Shelley Moore Capito is extremely favored to win a Senate seat in West Virginia, State Sen. Joni Ernst has emerged from the pack to fight for an open seat in Iowa, and black/Cherokee state Rep. T.W. Shannon will easily win a seat in Oklahoma if he wins his primary. Imagine if they won, and Wehby won, and Michigan's Terri Lynn Land won, immediately doubling the number of black Republican senators and more than doubling the number of women!
The problem is that the candidates are smaller than the narrative. Land is a great case study. "Republicans will have an excellent candidate in Terri Lynn Land," wrote Nate Silver this year, arguing that Lynn was more electable than one of the Tea Party candidates who might have run. The problem, as Michigan reporters keep finding, is that Land is monumentally unimpressive on the trail.
She didn't want to do the traditional media scrum, a normal fixture for politicians where reporters gather round in tight quarters and throw questions at the candidate. She preferred one-on-one interviews with reporters, but eventually agreed to the scrum. And the microphones, cameras and cell phone recorders emerged in her face.
At one point, looking slightly panicked and clearly uncomfortable, she pushed microphones away and said: "I can't do this. I talk with my hands."
And when confronted with several questions, regarding whether she would have voted for the federal bailout for General Motors and Chrysler (she has said she didn't support the bailout), she repeated a rote answer: "I support the autoworkers. I'm glad the autos are doing well."
After 2½ minutes, her spokeswoman uttered the words reporters hate — "Last question" — and quickly whisked her away.
Land's campaign has been trying to short-circuit Democratic messaging on social issues by pointing out that she is a woman, and been trying to brand her opponent as the pawn of energy bill-rising "California radical billionaire" Tom Steyer. Not really working. Wehby's campaign is predicated on the idea that, as Strassel writes, she can "run circles" around Merkley on health care, as voters rebel against the state's multimillion-dollar ACA exchange boondoggle. No evidence of that, either. The best thing Republicans have going for them in 2014 is that the electorate will be whiter, older, and more conservative than the one that elected Democrats in 2012. This is not to be confused with an electorate that'll just believe anything.