Bobby Jindal: VA Scandal is Basically the Sequel to the BP Oil Spill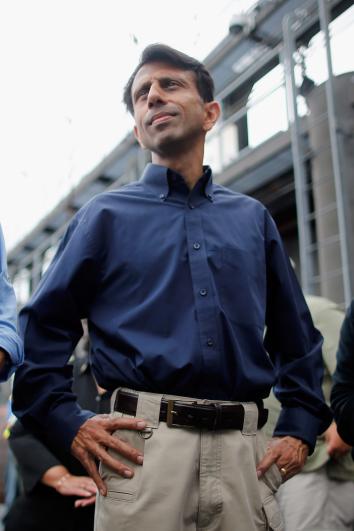 NEW ORLEANS—Two thousand-odd Republican activists, candidates and strategists have gathered here for the two and a half day Republican Leadership Conference. (From time to time it's renamed the "Southern Republican" conference, as that's where it's located and that's most of who shows up.) Gov. Bobby Jindal, who isn't really trying to conceal his presidential ambitions, used one of the first speaking slots to deliver a speech that combined much of what had worked at CPAC and other conservative events to a few hot new critiques of the Obama administration.
Yet strangely, he did not mention the VA story from the stage. After the speech, he joined reporters in a press room for a press conference,* starting with his analysis of the VA.
"A lot of people seem to be shocked at the incompetence—forget the ideology for a second—the incompetence of the administration in their approach to and handling of this issue," said Jindal. "For those of us in Louisiana, it reminds us of what we saw with the response to the BP explosion and oil spill. We saw the same bureaucratic ineptitude. We saw the same lack of accountability. We saw again an administration that seemed to trust the bureaucrats instead of asking the tough questions."
I asked Jindal if he thought (as John McCain and John Boehner now think) that the VA should simply be privatized.
"I'm certainly one of those that's saying it's unconscionable to have veterans waiting in line and waiting to see the doctors and their providers," Jindal said. "Absolutely there needs to be increased opportunity for folks to go and see private providers when there's not the capacity for them to get what they need. What I fear is that the same problems we're seeing in the VA system could be the future of health care if we continue down this path under Obamacare."
*I originally mis-stated how long he spoke because, mea culpa, my tape cut out.