Media Try to Ask Tea Party Activists About Mississippi Scandal. Tea Party Won't Have It.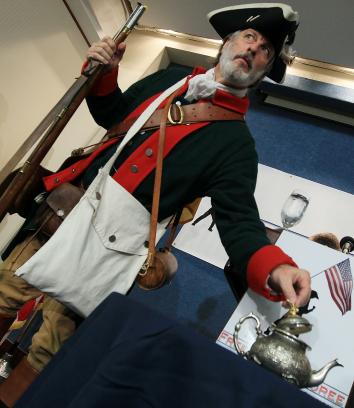 JACKSON, Miss.—The reason I've been a little bit slow on the blog-trigger this week is that I'm settled into a rented Camry, driving around the heart of the Deep South in advance of next Tuesday's primary. Today I talked to both leading Republican candidates for this state's U.S. Senate seat—story to come—but none of that matched the brittle drama of a hotel ballroom in downtown Jackson. Shortly after 10:30 a.m., a group of Tea Party leaders stood behind a pile of fake dollar bills (to symbolize the national debt) and a larger group sat in the audience to cheer them on.
It was there that the Tea Party Patriots Citizens Fund reiterated its endorsement of State Sen. Chris McDaniel, the Tea Party insurgent who has been bedeviled ever since a supporter, Clayton Kelly, accessed the nursing home where Sen. Thad Cochran's wife is bedridden. Kelly's picture of the scene made it, briefly, into a web video. McDaniel's campaign is on the record, several times, distancing itself from Kelly. But Cochran's made the final weeks all about the break-in, and a closing ad (which, curiously, he did not seem to realize the origin of when I asked about) plasters the images of Kelly and McDaniel on TV screens.
Advertisement

After a series of speeches about the need to elect McDaniel, the Mississippi Tea Party activists and the TPPCF asked the media for questions. Every single one was about the scandal.
"The notion that this was planned out, or acquiesced to by either the McDaniel campaign or any Tea Party organization just defies reason or logic," said Kevin Broughton, spokesman for the Fund. "With this big dragnet going on, I hope the police don't swoop in here and start locking people up."
"Is it frustrating that those people that were arrested identify themselves as members of the Tea Party?" asked one reporter.
"That's a fair statement," said Broughton.
Roy Nicholson, a founder of the state Tea Party, was so incensed that he started talking before he could reach a mic. When he did, he pointed at the dozen-odd reporters assembled in the room.
"I think I know just about every one of you in the press here," he said. "I think I have met just about every one of you. I have to tell you, I'm very disappointed in you. You keep going after the sensational. Go after the facts that are critical of the lives of people!"
The activists standing behind and in front of Nicholson cheered as he went on. "Why are you interested in the actions of one guy who's done something that's humiliating to everybody rather than the 42-year record of Thad Cochran?" he said. "Stand up and interview Thad Cochran and find out what he believes!"
Laura Van Overschelde, a fellow Tea Partier, took the mic from Nicholson. "The press is supposed to be the Fourth Estate," she intoned. "It is your responsibility, it is your job, to report what is important to every Mississippian. Not some sensational story you might be interested in!"
More cheers. One woman in the crowd turned to face the cameras. "What we ought to do is turn our chairs around and ask you some questions as citizens of Mississippi!" she snapped. The Tea Partiers took the reins, asking their own questions of their own leaders, until another reporter asked if a McDaniel win was important to reverse the "recent losses of the movement." Broughton told the reporter to check who won in the recent Nebraska Senate primary and Florida-19 special primary, and the presser petered out. But the crowd stuck around, and as I talked to one activist I turned to see another, Robert Kenney, lecturing the reporter who'd asked the "frustrating" question.
TODAY IN SLATE
Politics
Smash and Grab
Will competitive Senate contests in Kansas and South Dakota lead to more late-breaking races in future elections?