Two Losers on Primary Day: A Gay Republican and a Georgia Libertarian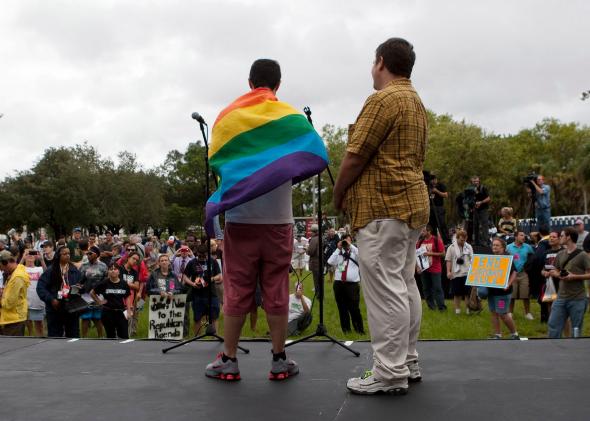 Tuesday's primaries did more than snuff out a couple of shambolic "Tea Party" campaigns. They reasserted "mainstream" Republican politics with defeats for two young legislators who'd broken from the party since 2012. Ben Jacobs has the story of the first of them—Mike Fleck, a Pennsylvania Republican who came out of the closet last year, to national attention and acclaim. Yet after primary day, "in the initial tally, Fleck had 3,398 votes, while a total of 3,700 votes were given to write-in candidates." He hadn't faced any challenger in years.
The second path-breaking Republican who went down this week: Georgia Rep. Charles Gregory. Gregory was the Georgia state director for Ron Paul's 2012 presidential bid. Gregory so respected Paul, actually, that this year he auctioned off 10 portraits of Ron Paul painted by his (Gregory's) wife. In the meantime, he'd won a seat in the legislature and started voting like a libertarian. The result was captured here, by progressive journalist Zaid Jilani.
Gregory went down to Bert Reeves, and he was not helped by a robocall that "informed" voters, in a lilting voice, that Reeves was endorsed by a transgender rights group. "No one in my campaign or anyone I am associated with has anything to do with it," said Gregory, blaming the attack on a dirty trickster who wanted it to backlash on him.
No one's taken credit for the call, but logically, Gregory would never have paid for it. We're talking about a libertarian who told his conservative electorate that marriage should be a "nongovernment issue," and that the sort of marriage licences being denied to gays in Georgia were created to prevent and regulate interracial marriage.
We're also talking about a young libertarian Republican who cast a few votes that satisfied him morally— and ended his career.