Circus of the House Science Commitee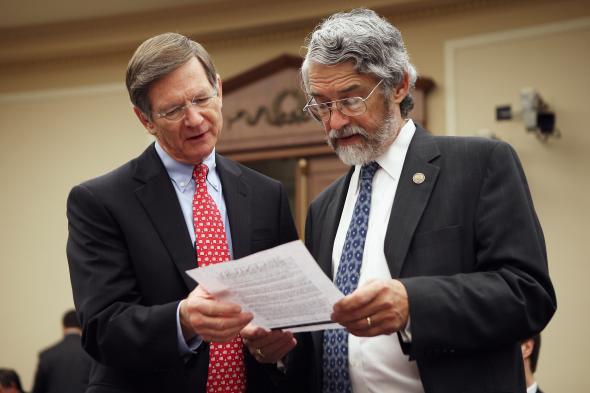 FIRST, a bill written by two Republicans, Reps. Lamar Smith and Larry Bucshon, is universally hated by scientists. It would make them do more paper pushing, and harm the research process. It has a few worthy parts—including a scheme to expand computer science training—but on the whole it is terrible. Democrats, boffins, and even the former head of Lockheed Martin dislike what it proposes. But it has been pushed hard in the House Committee on Science, Space, and Technology because Smith chairs it. On Wednesday the full committee was called to hear proposed amendments to the bill.
The proposed changes—and the debates they provoked—played out along two lines. Democrats fear that the United States is falling behind the rest of world, and more government funding for science is needed to prevent this slide. Republicans fear that America is falling behind their vision of the country as a thrifty, God-fearing one (where there's little room for such arrogance as thinking humans could change the climate), and stopping the government from doing all the things they don't like is the key to righting the course. Democrats repeatedly called to amend FIRST as a new iteration of America COMPETES, a bipartisan act signed by President George W. Bush and reauthorized by President Obama in 2010. (The renewal has expired.) American science needs more funding and less congressional red tape, they urge. Republicans replied that in a "fiscally constrained environment," science must be trimmed and inefficiencies fished out.
An hour and a half into the session, two astonishing things happened. Rep. Donna Edwards, a Maryland Democrat on the committee, pointed out something obvious. The bill being marked up proposes changes to spending for FY2014. The money has already been appropriated, the scientific bodies the bill regulates are already spending it, and the fiscal year will be more than three-quarters of the way complete by the time a bill could reach the House floor for a vote. Should it pass, agencies would have to scramble to meet reconfigured budgets. FIRST proposes specific funding allocations to specific types of research. Some fields (such as social sciences, behavioral sciences, and geosciences) would be aggressively cut, and the National Science Foundation would need to reshuffle research funding late in the fiscal year in order to avoid exceeding these new numbers. How on Earth would that work? It was, in fact, "highly irresponsible" that the bill was even still being discussed. Smith stuttered so pitifully in struggling to answer her, you almost felt sorry for him.
Yet in the face of that absurdity, the session just muddled forward. Smith moved on to the next amendment, as though the purpose of the hearing hadn't just been exposed as pointless. If Smith is looking for ways to prune inefficiency, he need look no further than his own committee.