A Quick Guide to Mississippi's Insane, Senate Race-Changing Scandal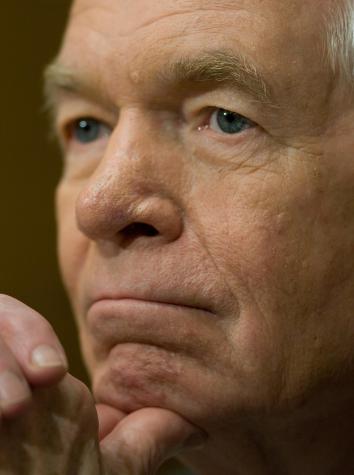 It's primary day in Arkansas, Georgia, Idaho, Kentucky, Oregon, and Pennsylvania, and the headlines that follow will probably be about Mitch McConnell's easy primary win. The narrative is already being written—"the Tea Party" made a run at McConnell, and failed. The movement's ready for that, because the campaign to beat Sen. Thad Cochran in Mississippi long ago became the key insurgent race of the year.
How'd it start? Last month a blogger and YouTube activist named Clayton Kelly captured images of Rose Cochran, the bedridden wife of Sen. Thad Cochran, who has been staying at a long-term care facility for 14 sad years. On April 26, Kelly briefly uploaded a video that contained the images. Within hours it was taken down.
Wait, why would anyone do such a thing? Yeah, pointing out that a candidate's wife is bedridden is more likely to induce sympathy for the candidate than anything else. But supporters of McDaniel had been circling around a story that they hoped would become a scandal. As Breitbart.com reported on May 4, Cochran has sometimes given the address of his executive assistant as his official address. On May 12, Breitbart.com followed up and asked why this assistant, Kay Webber, had accompanied Cochran on 33 trips. The innuendo-laden stories really got nowhere, but there was, for a particularly obsessed person, a possible reason for proving that Cochran's wife was out of the picture.
How did Chris McDaniel get involved? Kelly is a supporter of the candidate, and his YouTube page features a couple of videos of the candidate at his best. In February, Kelly met McDaniel and uploaded a photo of the two of them to Facebook.
That would come back to haunt McDaniel—but ironically, his campaign had tried to shake Kelly off weeks ago. On Sunday, Breitbart.com obtained an email from April 26 in which Melanie Sojourner, McDaniel's campaign manager, demanded the video come down. "If I find out anyone associated with our staff had anything to do with this it is immediate grounds for dismissal," she wrote.
So why is he being linked to the story? The whole thing's metastasized, with a helpful assist from the National Republican Senatorial Committee and the Cochran campaign. So: On May 16 the blog Jackson Jambalaya broke the news that Kelly had been arrested. At that time, the police had not revealed the target of Kelly's crime. On May 17 the Jackson Clarion-Ledger confirmed that Rose Cochran was the target. But prior to that, as the news spread, Melanie Sojourner left the Cochran campaign a 7:41 a.m. voicemail denouncing the crime.
"There was some stuff several months ago where this guy was doing some insane stuff online. We found out about it," she said, "and Chris and I immediately sicced a bunch of volunteers trying to find out who was the source of just a lot of ugly rumors and nasty stuff and we wanted it squashed."
The problem: A little while later, the Hill's Alexandra Jaffe was reporting on McDaniel in Hernando, Mississippi. She asked him about the Kelly arrest. He pled ignorance of Kelly and the arrest. "I don't guess I've been awake long enough to see what's happened," he said.
So this is about a campaign being unable to get its story straight? For now, looks that way. McDaniel's campaign fumbled its response to a story that broke on Friday night and Saturday morning. That morning, the NRSC, via its Twitter-happy spokesman Brad Dayspring, started pummelling McDaniel over the inconsistencies and asking whether the investigation would reveal more coordination than had been admitted. On Sunday it was actually the Cochran campaign that released the Sojourner voicemail. Ever since, McDaniel has been in the unenviable position of trying to stick to a story that he himself undermined.
"In April, we received some sort of notice that there was a video floating around about Kay and Thad," he told a radio show this morning. "I've never laid eyes on the video, but what I was sure of is that that was not anything that our campaign was going to be about."
Had he said something like that on Saturday morning, this would be a different story. Instead, it's the other side gleefully bringing McDaniel down with innuendo about what he knew, when he knew it, and whether he was really so distant from this greasy blogger after all.