Black Democrats May Have Just Killed a Judicial Nomination in the Senate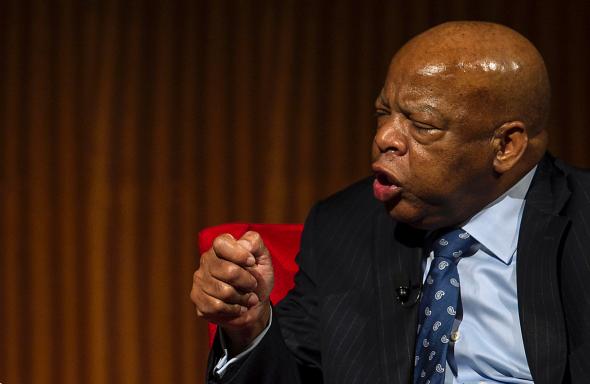 Last week my colleague Jamelle Bouie wrote about the case of Michael Boggs, a judge who had "targeted abortion rights, voted to keep the Confederate battle emblem on the state flag, and defended discrimination against same-sex couples" and looked to be confirmable anyway. The reason? Both of Boggs' Georgia senators backed his bid; the White House backed it as a status quo peace offering.
Anyway, that was last week. This week, months of campaigning from the Congressional Black Caucus led to the most damaging condemnation of Boggs—a thumbs-down from Civil Rights icon Rep. John Lewis.
"Based on the evidence revealed during this hearing, I do not support the confirmation of Michael Boggs to the federal bench," said Lewis. "His record is in direct opposition to everything I have stood for during my career, and his misrepresentation of that record to the committee is even more troubling. The testimony suggests Boggs may allow his personal political leanings to influence his impartiality on the bench."
Lewis had been staying quiet. His hand was forced by a Democratic blunder, committed by California Sen. Dianne Feinstein. The CBC's campaign, echoed in the liberal press, had gotten Boggs condemnations for high-ranking Democrats all the way up Harry Reid and Dick Durbin. Michelle Nunn, the centrist Democrat running for Senate in Georgia, even said she "shared some of the concerns" of the progressives.
On CNN's Sunday show, Feinstein insisted that Lewis had endorsed the Boggs pick as part of a "ticket" of nominees. That led Rep. David Scott, another Georgia Democrat from a safe seat, to say that Lewis might be "a turncoat who has betrayed African Americans, women and gays." And that broke Lewis's silence, which was the most Boggs foes could do in a Senate with only one black Democratic member.* And Sen. Cory Booker, who is hardly ever quiet, has said nothing about Boggs.
*I originally wrote that the Senate contained no black Democrats. Wrong, for seven whole months now!