India's Election, Rahul Gandhi, and the Worst Interview of the Year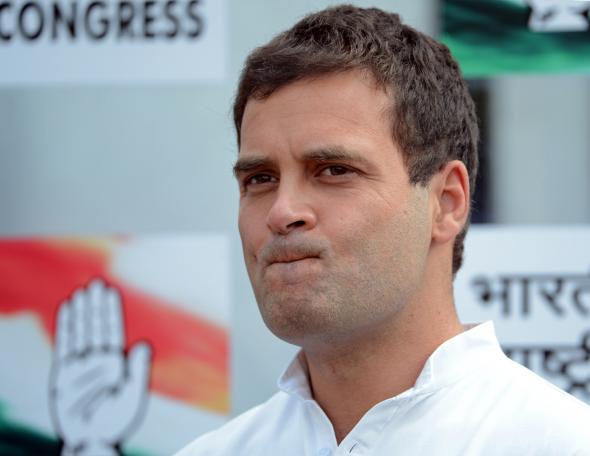 The debut of John Oliver's Last Week Tonight, an exciting moment for the Slate demo, spent a good while shaming American media for ignoring India's election. This was just, and right, and true—lots of things are more interesting than Hillary Clinton's set speeches at charity events, not least the fate of the world's largest democracy. And Oliver got the gist of the election, which was that the charismatic Narendra Modi would lead a right-wing coalition into power over the ruling Congress Party. That happened.
My only quibble with Oliver was how he described Rahul Gandhi, the man who led Congress to defeat. To be fair, the party was doomed by corruption and slowing economic growth, and Gandhi was given ... I was about to write "a poisoned chalice," but that seems like a gauche analogy for a man whose father and grandmother were assassinated in office. But Oliver quickly described Rahul as an "Indian Han Solo" and a man with the "total political package."
This was not the whole story. Gandhi was sort of a disaster, a groomed yet unprepared candidate who never recovered from a nightmare interview with TV host Arnab Goswami. The whole gruesome thing is online, and the transcript is here. Both offer their own flavors of cringe comedy, from the start, when Gandhi struggles to explain why he's doing his first-ever TV interview after 10 years in office.
Arnab: Why has it taken so long?

Rahul: I have done a little media interaction, prior to this. I have done press conferences & spoken to the media. But mainly bulk of my focus has been on internal party work and that's where I have been concentrating, that is where most of my energy was going.

Arnab: Or is that you have been reluctant to communicate more on one to one basis?

Rahul: Not at all, I have had many many press conferences that you have seen. I don't have that issue.

Arnab: It's not that you wanted to avoid touching on difficult or tough issues

Rahul: I like difficult to tough issues, I like dealing with them.
I don't know where to start with the carnage. Goswami is a relentless interviewer handling a slippery yet incompetent subject, one who whines that "you haven't asked me one question on how we are going to empower our people, you haven't asked me one question on what we are going to do for youngsters," and for his trouble is flustered by a series of questions about his resume. Goswami asks, many times, if Gandhi will debate Modi—when we can see how such a debate would go—and Gandhi excruciatingly keeps trying to change the subject back to how his party is devolving power. Why won't Goswami talk about that?
"It's mentioned everywhere," says Goswami. "It hasn't impressed too many people."
And I haven't even mentioned the moment when Gandhi, bafflingly, tries to filibuster by asking Goswami why he became a journalist. The dynastic candidate never recovered from this.