Allen West on 2016: God May Be "Getting Me Ready for Something"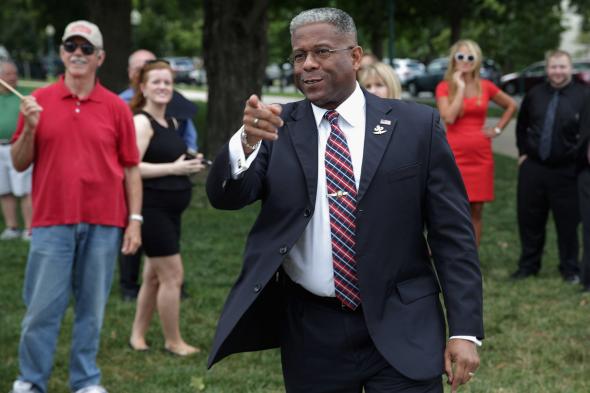 ROME, Georgia—The three front-runners in Georgia's U.S. Senate primary are spending the last days of early voting on bus tours around the state. This is why, on Thursday night, I found myself at the Floyd County Republican Party dinner, where former Secretary of State Karen Handel would wrap up day two of her bus tour, and where former Rep. Allen West would give a 32-minute speech.
I pulled up to the Coosa Country Club a little while before Handel did. That gave me some time to roam a sold-out, standing-room-only room (standing room paid for by Americans for Prosperity) and to see something that had been absent at every other campaign stop. Namely, black Republicans. Not just a few near the stage, but dozens of black activists. The Republican takeover of Floyd County started in earnest 16 years ago, when black businessman John Mayes led a near-sweep of county commissioner races, and Mayes had brought two tables' worth of friends and family with him. Other black Republicans were scattered around the room; most would eventually get pictures with West.
"You'll find that there are an unusually high number of African-American Republicans in the county," said Rev. Dr. Harvey Palmer, a retired United Methodist pastor. "We look at issues; not race, color, or party any more."
Palmer, unlike most in the room, had voted for Barack Obama. He was craning his neck to find Handel because he wanted to tell her to run a "positive campaign on what she would do," rather than "tearing down Obama." And he opposed the GOP-run legislature's recent legislation that dramatically expanded the range of places where people could carry guns. "The Methodist Church voted in 2006, 2008, and 2010 to make churches gun-free zones," he explained.
But he was excited to see West, who gave a speech that avoided specific attacks on Barack Obama. He saw a lurching crisis in America in which "God, with the big G" was being "replaced by government, with the little g." Republicans shared some of the blame because they ceded so much ground to Democrats.
"We are not taking our message truly where our message needs to be heard," he said. "Our message needs to be heard in Detroit. Our message needs to be heard in Chicago. Our message needs to be heard in Washington, D.C., where people don't realize that one of the first things Obama did, unfortunately, was to cancel the school choice program."
The first question to West, after a long ovation, was whether he'd run for another office. He'd actually speculated about running for president one day earlier, on Ben Shapiro's radio show, and the topic had come up in a VIP reception before the dinner.
"I know there are ministers here, so I want to get this right. It says in Proverbs Ch. 3, verses 5-6: Trust in the Lord with all your heart and lean not on your own understanding; in all your ways submit to him, and he will make your paths straight. I could sit around here saying what I think I want to do, but my mommy and daddy taught me that you write those plans in pencil and dear God will erase them. I never thought I'd be standing here in Floyd County talking to you, but I am. I will always be a servant to this great nation, and any way that God believes I can serve America, I will. We will see what he has in store for me, because I think he maybe is getting me ready for something else."
That earned West another ovation. After it settled, Palmer asked West when he decided to become a Republican.
"There is still a belief if you're a black Republican in the United States of America, you're a traitor, you're an Uncle Tom, you're a house negro, you're a white man's porch monkey," said West. "That's just some of what people write to me on Facebook." He got more serious, and retold a well-honed tale about how his parents let him find his own views, and how black Americans had been held back by falling moral standards.
"We stopped talking about it," he said. "We stopped having that conversation in our community. Now, you're seeing many more black conservatives—not necessarily black Republicans, but conservatives—because it's about making that connection on principles and values."
Another questioner asked West whether pop culture was partly responsible for moral decline. It was, he said, and he rapped the first few harmless bars of "Rapper's Delight" to make his point. "That was the first rap song! I couldn't stand here and recite the lyrics to one of the songs that's popular now."
Still, 2016 kept creeping into the Q&A. West argued that the GOP could no longer nominate presidential candidates "based on whose turn it is—it doesn't work." One Republican asked West, obliquely, what the next Republican president should do in his first 90 days. West rattled off a detailed answer, covering everything from tax reform (flatten the code) to energy exploration to the specific needs of the armed forces.
"When Chuck Hagel stood up there and said we need to needed to get rid of the A-10, I tried to go through the television and grab him," he said. "Anybody who's been in ground combat knows that the A-10 is the best close air support platform that we have out there. That's something that can come down over your head and eliminate the enemy. It's not about killing tanks. It's about eliminating the opposition."
It was a little hard to imagine—let's pick some names at random—Chris Christie or Jeb Bush or Rand Paul or John Kasich or Scott Walker or Mike Pence—answering a question like that.