Jill Abramson Was Right, So She Had to Go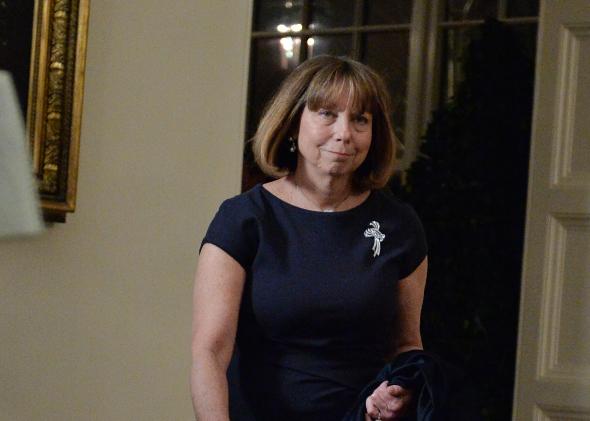 You will find no #slatepitch here about the New York Times' quick and dirty sacking of Jill Abramson. It's like Rebecca Traister says, the paper got rid of Abramson with none of the respect (fake or not) that has gone to previous exiles; more respect went out to Howell Raines, who resigned after presiding over the Jayson Blair scandal. Yes, this is the sort of story that gets obsessed over on the Acela Corridor while the layoffs at smaller papers get lumped into the occasional "gee, whither local journalism?" thinkpieces. But the NYT handled it so badly that it became a story. It's probably a matter of hours until a Democrat working on pay disparity cites the reports that Abramson was being paid less than predecessors.
All I have to add concerns this nugget from Gabriel Sherman's report on the firing. After Mark Thompson was hired from the BBC to work for the Times, and after Abramson sent an investigative reporter to vet him, the two kept clashing.*
Thompson's role as house philosopher grated on Abramson. A particular flashpoint was Thompson's emphasis on video. Abramson was skeptical. "Jill does not like video," a person familiar with her thinking told me. "She thought there is nothing more boring than two print people talking in front of a camera about a story you can you read in a minute."
This is just obviously true. Ironically, the Times' video arm does a lot more than the cursed "two print people talking in front of a camera" clip. Its explainer videos are quite good, and go where print can get turgid. Its original reporting, like the Christine Quinn documentary than ran last year, is compelling and argument-starting. And other sites like Vox and New York have developed fascinating explainer videos or click-tastic edits of TV and movie tropes. Original reporting, done on video, works online for the same reason it works anywhere else.
But most elite newspaper video content is terribly boring, for the reasons Abramson apparently cited. The great forgotten whiff of 2013 must have been PostTV, a channel with an-house studio built for its use, stuffed with live content and original programming that was supposed to be the "ESPN of politics." It consisted of reporters talking to each other about stories in the paper and talking to guests who rarely gave the startup intra-paper network enough time to get really interesting. It wasn't any different than the other, little-noticed video features on smaller political news sites.
Politico (created in 2007 by former Post reporters) had the best reporting on the Post stumble, but Politico also gives the world a bunch of short video series that consist of really good reporters summing up what they're working on. It all seems like a ruse, a way to convince advertisers to invest in "branded content" that appeals to "thought leaders," when any reader's time is better spent using his/her eyeballs to quickly read a story. It might produce some people who work for actual TV channels, as HuffPostLive has, but it's sort of a lark and mostly a waste of time.
*Correction, May 15, 2014: This post originally misstated Mark Thompson's first name.