Who Got the Nebraska Senate Race Wrong, and Why?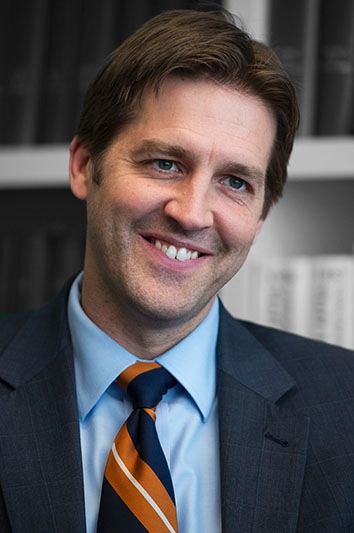 In the end I underestimated the landslide Ben Sasse was going to win by in Nebraska. Before the polls closed, I extrapolated that he'd beat his closest rival by 11 or 13 points; he'd crack 40 percent of the vote, anyway. But Sasse dominated the field in a way no poll predicted, taking nearly half of the vote, leading rival Sid Dinsdale by 27 points, and capturing 92 of Nebraska's 93 counties. (Dinsdale won just one, Merrick.)
My only consolation: A bunch of people misread the race in far sillier ways. In the final weeks, Omaha banker Sid Dinsdale crept up in polls, rising from also-ran status to a strong second place. Panic! A similar situation broke out in the 2012 primary, when Attorney General Jon Bruning and Treasurer Don Stenberg battered each other so badly that State Sen. Deb Fischer surged to a win. "History could repeat itself in Nebraska," mused Roll Call. "Sasse is no sure bet, thanks to Dinsdale," wrote the Washington Post.
To paraphrase Shakespeare: Derp. "Thing that happened before may happen again" is a perpetually pointless analysis, and Sasse's run looked nothing like Bruning's or Stenberg's. Bruning was simply a rotten candidate, with a résumé full of gaffes and scandals. He lost again last night, narrowly ceding the governor's race to (another once-defeated candidate) Pete Ricketts. The "Tea Party"—meaning the assortment of conservative groups that fund or organize for or endorse candidates—was utterly divided in 2012. Sarah Palin endorsed Fischer; the Club for Growth backed Stenberg; the Tea Party endorsed Bruning. All three of these forces endorsed Sasse in 2014. Plus, while Fischer hailed from the western part of the state (a rural district covering 13 counties), Dinsdale came from Omaha. He had the same "base" as Sasse—Sasse thumped him by 13 points in Omaha's Douglas County.
You could go on, with more criticism of the sporadic, narrative-drunk coverage of this race. The idea that Sasse, an Ivy Leaguer and Bush administration veteran, was not a natural fit for the Tea Party is sort of belied by the movement's adoration for Ivy Leaguer and Bush campaign veteran Ted Cruz.
But there was more to the Sasse win. The Tea Party, easy as it is to mock and blame for defeats, has managed to install half a dozen senators who are young enough to run the upper house some day. Cruz, Sasse, Marco Rubio, Rand Paul, and Mike Lee won when they were in their 40s. Oklahoma's T.W. Shannon and Mississippi's Chris McDaniel, two Tea Party favorites for this year, are even younger. When given a shot at a safe seat, the movement elevates young, dynamic, ideological candidates.
Compare that with the Democrats who were elevated to safe seats in blue states recently. Massachusetts Sen. Ed Markey, age 67, will never attain the seniority of Rand Paul. Cory Booker, while young and dynamic, is a huge irritant to the left. (He hasn't found as many ways to annoy it now that he needs to stay in the Senate.) The only 2014 race I see, in which the left is boosting someone who can stick around for years, is the Hawaii primary between incumbent Brian Schatz (41) and Colleen Hanabusa (63). The left backs Schatz, but that's at the expense of increasing the number of nonwhite, not-male senators.