GOP Immigration Reformer: The Deadline Is 2013 or Early 2014 or Sometime Before August 2014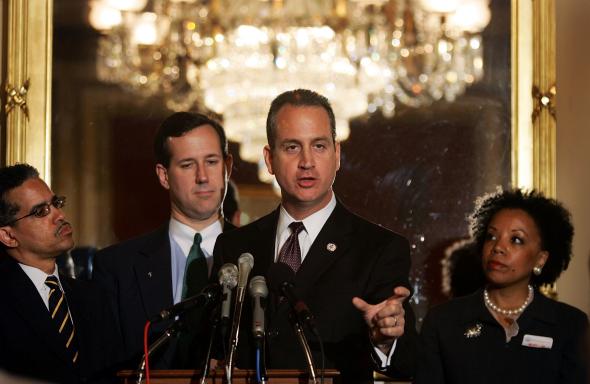 In September 2013, Florida Rep. Mario Diaz-Balart hardened the consensus that immigration reform had to get done before the year ended. He was one of the very few House Republicans advocating for a deal, so reporters listened.
"Time is our enemy," Diaz-Balart says. Unforeseen circumstances like Syria and issues such as the debt ceiling can take up a lot of time on the House floor.
"If we don't get it done this year, it gets more difficult," he says. The Florida Republican made his preference very clear. "I would like to get it done this year."
The Syria crisis (the American part of it, anyway) found a quick resolution; after the two-week government shutdown, the debt limit panic subsided. Yet there was no immigration bill by November, when Diaz-Balart glumly broke the news to Greg Sargent.
Diaz-Balart said that if something were not done early next year — by February or March, before GOP primaries heat up – reform is dead for the foreseeable future.
"I'm hopeful that we can get to it early next year," he said. "But I am keenly aware that next year, you start running into the election cycle. If we cannot get it done by early next year, then it's clearly dead. It flatlines."
Just a couple of months later, when I joined a bunch of reporters and nearly every House Republican at the party's annual retreat, NRCC Chairman Greg Walden was sort of echoing Diaz-Balart. There'd be more flexibility after the incumbents survived the upcoming primaries. "By the time you get to June," he said, "most of them are behind you."
Diaz-Balart told CQ Roll Call in April that lawmakers had developed a policy that would adequately address concerns about border security and the 11 million unauthorized immigrants.
"So I feel optimistic that we're going get it done because I think most people in the House understand that what we have is unacceptable," said Diaz-Balart, once again adding, "And if we don't get it done by this August, it just doesn't get done."
Well, OK. Diaz-Balart is talking not about a comprehensive immigration reform, but about some small bills that could satisfy House conservatives. He's not really talking about the Democratic dream of a House bill coming out of the chamber with bipartisan support, Republicans making up the difference as nearly every Democrat votes yes. The "it" that needs to "get done" keeps changing, as does the deadline.