Congressional Hearing on D.C. Marijuana Law Ends With No Conclusion, Some Hilarity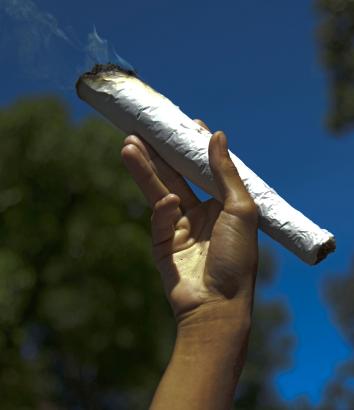 The House Committee on Oversight and Government Reform can, if it chooses, put the brakes on much of what the D.C. Council does. It's been years since the city was enough of a fiscal wreck for Congress to intervene, and it's been a generation since Congress blocked the District's referendum on decriminalizing marijuana.
Last month, as he was losing renomination for a second term, D.C. Mayor Vincent Gray signed the city's latest decriminalization bill. It was set to go into effect this year, and reduce posession of small amounts of pot to a parking-ticket offense. For a while, it was unclear whether Congress would fight this, and I remember debating with a younger Republican member about why the law would come under any scrutiny. He reminded me just how old some of the Republican conference is, and how many view legal or decriminalized drugs as something of the left and of the hippies.
He predicted today's hearing, which was inconclusive. Rep. John Mica, who's 71, chaired the subcommittee's probe of the bill, taking testimony from local law enforcement and giving Republican peers time to debunk the idea that marijuana is harmless—which isn't even part of the reason for decriminalization.
Democrats, who are outnumbered on Oversight, put up a passionate but token effort. Del. Eleanor Holmes Norton attempted to persuade Republicans of the justice of D.C.'s law by pointing out sentencing disparities—black people were four times as likely to go down on marijuana charges in Florida, eight times as likely in D.C. The city, said Tennessee Rep. Steve Cohen, could "be a laboratory of democracy just as the founders envisioned."
Louisiana Rep. John Fleming would have none of it. Over 10 minutes, he challenged the city for rejecting the science that showed marijuana "modifying" brains (as basically any activity does) and warned that in Colorado, the legalization of weed had led to "fourth-graders" selling drugs. Plus, legalization was expensive, and libertarians ignored the costs.
"If you can do whatever you want with your body," he said, "that is ride a motorcycle with a helmet or whatever, don't expect society to take care of you."
It was left to Kentucky Rep. Tom Massie, a fortysomething libertarian, to grapple with Fleming's political philosophy. After they wrapped, Mica jokingly held up a fake joint that he was unable to "enter into the record."