What House Conservatives Want From the Benghazi Committee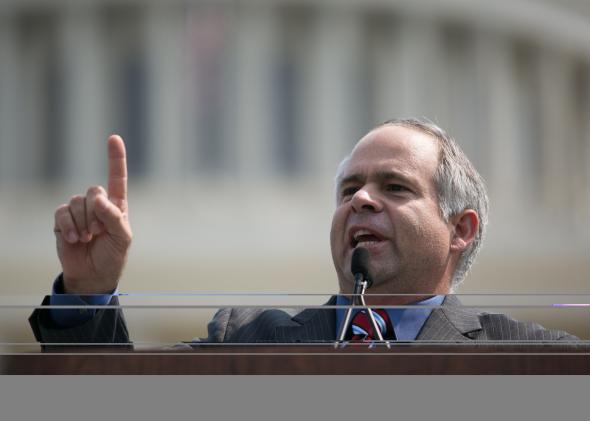 Much of this month's "Conversations With Conservatives," a regular event at which the right flank of the House GOP talks to reporters with Chick-fil-A provided by the Heritage Foundation, focused on the new Benghazi select committee. A few hours after the event would end, the House would vote to create the committee. Reporters took stab after stab at the topic, as I chuckled to myself, remembering the weird looks I got when I asked at last month's gathering about Benghazi. The conservatives had campaigned for the committee, and they'd won. So what did they want?
"We need to try this thing, really, in the public eye," said Iowa Rep. Steve King. "The autopsy of Ambassador Stevens should be released to the public. That's another piece of information that's missing."
Everything else that Rep. Raul Labrador, Rep. Jim Jordan, Rep.Tim Huelskamp, and others said was basically in line with the concerns expressed by John Boehner. That made me wonder whether Boehner had found new respect in the caucus. By approving of the special investigation, had he increased his clout with people like Huelskamp, who had opposed his speakership last year?
"I don't think so," said Huelskamp. "He fought against this for a year and a half. Mike Rogers fought against this for a year and a half. They used to stand up in conference and say, 'Quit worrying about it, we've got it all taken care of.' I think what this showed is that we were right—we needed to know more. We needed to elevate the status of this to get to the truth. I'm shocked it took a year of subpoenas to get the speaker to cross that line, because most of us crossed the line a long time ago. Before the election."