Barbara Comstock Wins One For the GOP Establishment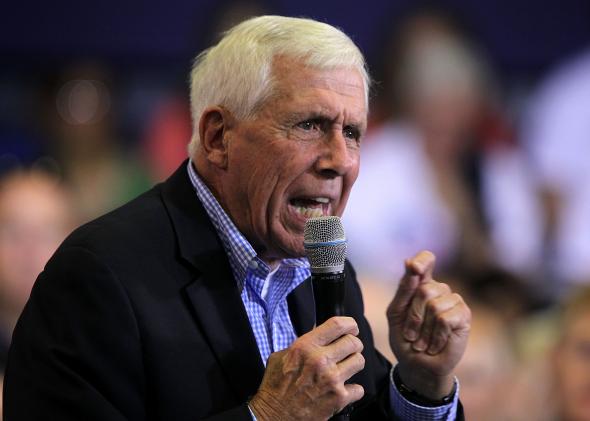 I missed it at the time, but on April 25 Mother Jones reporter Tim Murphy published a nice piece about GOP fixer-turned-Virginia delegate Barbara Comstock and her effort to win a seat in Congress. The gist was that Comstock, who'd long been groomed to replace Rep. Frank Wolf, looked like a shoe-in for the GOP nomination. The only poll of the district put her up 30 points. But the going was tough:
As an anti-Comstock opposition research document leaked to the Daily Caller in February put it, "She completely represents what the new conservative movement…is moving away from."
At the debate in Sterling, Comstock fiddled with her smartphone and largely spoke past her competitors, positioning herself as a candidate who could bring suburban women voters back to the party in November. But the chatter kept coming back to her record. "All of us go to Tea Party meetings—except Barbara," said Howie Lind, a former state GOP official who is also running in the primary. He was referring to two scheduled meetings with a Tea Party group in the western part of her district that Comstock had canceled.
Punchline: Comstock won anyway. The "firehouse primary," which gathered Republicans in only 10 polling stations across the ex-urban 10th district of Virginia, ended with a 26-point win for Comstock. She did it by obliterating the competition in Fairfax and Loudon counties, which make up most of the district's population. In more rural areas, she came in second, but it didn't matter.
Why focus on this tiny race for a seat already held by the GOP? Because the establishment played it beautifully and the liberal media* went along with it. To survive, Comstock needed the election to be, well, an election, and not a convention. It was a Republican convention that saddled the GOP with 2013's ludicrous grifter of a lieutenant governor nominee, E.W. Jackson. The firehouse primary brought out 13,901 voters, which doesn't sound like much. But the statewide convention in 2013 brought out only 11,936 activists.
It's clear that Comstock might have lost at a smaller, more activist gathering. But she got a break when Dick Black, a right-wing state senator, was scared out of the race, encouraged by viral stories about all the insanity he'd spewed over the years.
*defined literally, not pejoratively