Joe Biden: Probably Not a Presidential Candidate, Definitely an Onion Reader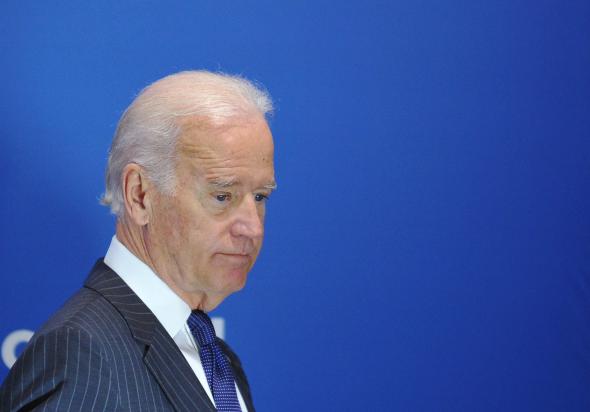 My colleagues at the Slatest have already posted the main videos from the White House Correspondents' Association dinner, of President Obama's remarks, and Joel McHale's part funny and part painful roast.* But this is the clip that's really getting around—the now-traditional Hollywood/Washington mashup video, in which Julia Louis-Dreyfus pals around with Joe Biden.**
It's conceptually confusing and a little too long, as these things often are. (The 2013 House of Cards video was an exception. The norm is the blissfully forgotten 2006 clip in which Helen Thomas chased Stephen Colbert through parking garages.) Armando Iannucci, Veep's creator, has told me he didn't want to bring real-world politicos or reporters into the show's reality. So the Biden/Dreyfus collaboration lacks his touch, and the cross-cut edits and reaction shots that make Veep so funny. It's just a run through cute but obvious jokes about Washington, which the overarching joke that Joe Biden is the swashbuckling Onion version of himself. He wears mirrored aviators! He drives a yellow Corvette!
Without wanting to read too much into this, it felt like the White House was gently, gingerly embracing the truth that Biden won't be his party's nominee for president. President Obama told two jokes at Biden's expense, one about the vice president flinging a shoe at Hillary Clinton and one about how Clinton will obviously win the presidency.
"Let's face it, Fox, you'll miss me when I'm gone," said Obama. "It'll be harder to convince the American people that Hillary was born in Kenya."
By this time next year, Clinton will probably be running for president. In the intervening six months, there'll be plenty of cable news time-filling about whether other Democrats can challenge her. And Biden will be gently nudged out of the frame, in moments like these.
*McHale did a good amount of riffing to audience reactions, which wasn't properly denoted in the transcript of the speech (below). Hilarity ensued.

Now allow me to tell you a little bit about myself. My name is Joel McHale. I am on an NBC show called Community. That is exactly what I thought. I also host a show called The Soup, which is on the E network, thank you. To Republicans in attendance, E is the channel your deeply closeted gay son likes to watch. Democrats, it's the same channel that your happy, openly gay son likes to watch.
E is also home to the Kardashians, who believe it or not, are Republicans. And I know that because they are always trying to screw black people. Now just the men!
**Correction, May 5, 2014: This post originally misspelled Julia Louis-Dreyfus' last name.