The One Senate Seat Democrats Might Not Lose This Year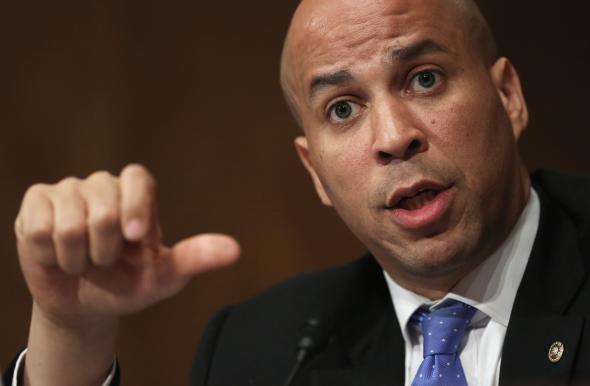 Jonathan V. Last is up with a quick, happy look at the Republicans' 2014 electoral odds. We're seeing a lot of this lately, and I used to maintain that Scott Brown's "eh, why not" entry into the New Hampshire Senate race marked the height of Republican confidence that the Obamacare backlash can elect basically anyone this year. But Last presents an even better icon: Jeff Bell. The guy who ran for Senate in 1978 on a tax cut platform, primaried a moderate Republican, and went on to lose to Democrat Bill Bradley. The guy who then joined the Reagan campaign and become a minor conservative icon. He's now running against Sen. Cory Booker.
"If this becomes a wave election," Last wrote, "even a presumed firewall, like New Jersey, could come into play because another smart Republican (Jeff Bell) is running there against a freshman." Last's colleague Michael Warren reminds me that Last previously talked up Bell ("a friend")* and suggested that "while Booker is an attractive candidate, as a political commodity we have no idea whether or not he can take a punch."
That underrates Booker just a tad—the guy won a special Senate election just seven months ago, and won two of three mayoral races in Newark. Bell, as he admitted when he entered the race, did not live in New Jersey during any of those elections. He was in Virginia for 31 years, and rented a home in New Jersey this year, the day he made his race public. (Some high-quality irony here, given that Booker's 2013 opponent closed out the race by falsely claiming that the mayor did not live in Newark.) Last and Bell argue that Booker is vulnerable because (quoting Bell) "he isn't thinking about people who have a job but their wages cannot keep up with the constantly-rising prices."
But Bell's solution to this is exactly what it was in 1978—a return to the gold standard. And his theory for victory depends on amnesia. As he told one columnist:
"One of the reasons I got into the race is that I was underwhelmed by his performance against [2013 candidate Steve] Lonegan," said Bell.
Lonegan was closing the gap against Booker until the Beltway Republicans embarked on that attempt at a government shutdown, which knocked the failed launch of Obamacare out of the headlines till the Oct. 16 election.
"Booker praised Obamacare in one of the debates with Lonegan," said Bell. "He said it was a great thing."
There it is, the story that gives every 2014 Republican hope that he can win the upset. It's just a little too simple. The 2013 special election was scheduled, strangely, just weeks before the state's quadrennial governor's race. This was seen by many as a way to dilute Democratic resources and distract their voters as Chris Christie stormed toward re-election. New Jersey had cast more than 3.3 million votes in the last presidential election, and 2.2 million votes in the last Senate race (2006) held during a non-presidential year. They cast only about 1.4 million votes in the 2013 race. Even with that advantage, Lonegan's "closing of the gap" amounted to him consolidating a Republican vote without ever chipping into Booker's. In Quinnipiac and Monmouth polling, Booker never rose higher than 54 percent support. He ended up winning 55 percent of the vote.
But that was then. Perhaps anger at Obamacare will reshape the map. Perhaps a struggling middle class will cry out once more for a gold-backed dollar. This is the season of boundless Republican optimism.
*Bell is a very nice guy and I once joined him on a political science conference panel that was 1) incredibly poorly attended and 2) interrupted by a fire alarm.