Even Young Voters Are Turning Away from Democrats in 2014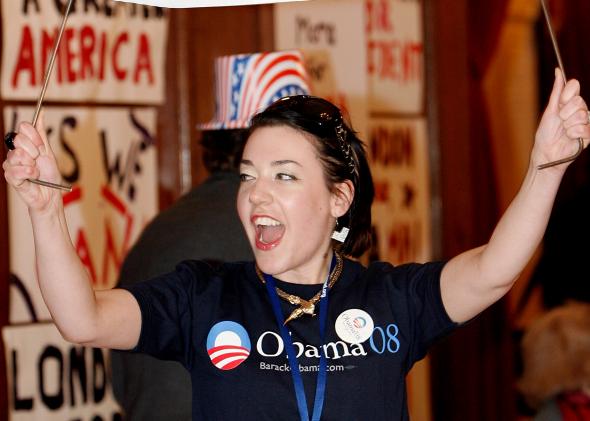 A new poll from the Institute of Politics at Harvard released today offers more bad news for Democrats in 2014. Only 23 percent of 18 to 29 year olds surveyed said they will definitely vote in this year's midterm elections, and more of them identified as conservatives (32 percent) than liberals (22 percent). The pollsters found that 44 percent of young people who voted for Mitt Romney in 2012 said they would vote this year. Just 35 percent of those who voted for Obama said the same.
In recent years, youth turnout in elections has been low compared to older voters, even during presidential election years. A report from the U.S. Census Bureau this month points out that only 38 percent of eligible 18 to 24 year-olds bothered in 2012 (in 1964, it was 51 percent), while nearly 70 percent of those above retirement age voted (The Census Bureau does not look at 25 to 29 year olds alone, or group them with the younger cohort.) Disengagement among young voters is even worse in midterm years. A college student or young professional may not even be in the same state in four years' time, so why should she care who its senator will be?
But young voters, despite casting ballots in limited numbers, can make a difference in tight races. In 2012, they showed up to vote in key swing states; turnout for 18 to 29 year-olds in Ohio, Florida, Virginia, and Colorado were above 50 percent, helping to tip them for Obama. Last year in Virginia, then candidate, now Gov. Terry McAuliffe did his share of college campus stops and beer drinking with students to plug his education and jobs platform. It worked: 26 percent of them showed up to the polls (and this was an off-off year state election!), with a plurality voting for him. (Stumping by his friend, Bill Clinton, a surprising millennial favorite, might have helped a little bit, too). Compare that to the 2009 state gubernatorial election, where only 17 percent of young people cast votes (mostly for Republican Bob McDonnell).
Tight races abound this year, especially in the Senate, where Democrats have more seats to lose. History says that the president's party is set for a drubbing during a midterm year. So it is worrying for Democrats that fewer of their young supporters seem to care. In fact, they are disillusioned with politics all together. The Harvard poll found that trust in political institutions has fallen to a historic low of 31 percent. Young people, no matter their political philosophy, are cynical about American democracy today: 62 percent think elected officials enter politics for a "selfish reason," and few would run for office themselves. They can be hardly expected to canvass for votes, if that's the case.
In his excellent piece for the New Republic this week, Sasha Issenberg discusses the difference between the America that turns out to vote for the president, and the one that shows up to vote during the midterms. Young people belong to the first America, and it seems to be a progressive one—unsurprisingly, most 18 to 29 year olds polled by Harvard favored Hillary Clinton in 2016 in a hypothetical match-up against Chris Christie. That's cold comfort, however, for Democrats who find themselves on a ballot in 2014.