North Carolina Governor Endorses GOP's Front-Runner in Senate Primary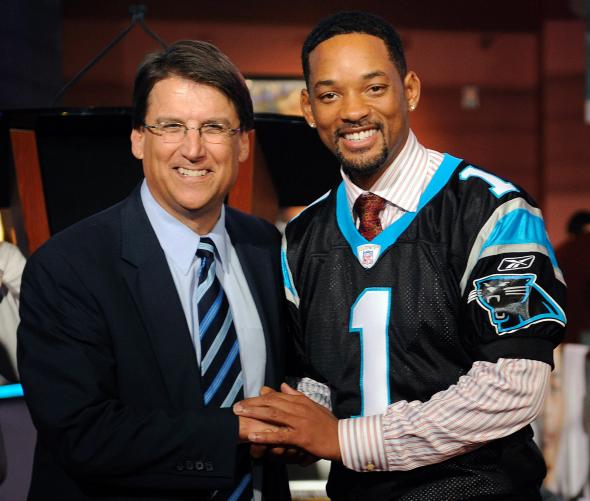 RALEIGH, N.C.—Sometimes you show up just when the drama drains out of an election. It had taken North Carolina House Speaker Thom Tillis an uncomfortably long time to break away from his conservative primary foes. After one (and only one) winter poll showed him trailing doctor Greg Brannon, a Ron/Rand Paul acolyte, Democrats began to salivate at the possibility that Tillis would be forced into an expensive runoff. But Tillis' donors redoubled their efforts, the candidate himself did not slack, and nothing occured in three televised debates to slow him down. The result: As Tillis entered a sheet metal manufacturing company to accept the endorsement of Gov. Pat McCrory, reporters were chatting about a new Public Policy Polling that had the front-runner at 46 percent over the field. He needs only 40 percent to prevent a runoff.
Pictured above: Tillis, smiling as Gov. McCrory explained that only he had aced the "job interview" and won the governor's own early vote. (A shrunken early-voting period began Thursday.) Pictured behind McCrory: Rob Engstrom of the Chamber of Commerce, who was hitting Raleigh and Charlotte with the Republican team, and announcing an ad buy ("significantly more" than the few hundred thousand dollars I thought I'd heard) that would run through the election.
The goal, as I'm writing in an in-progress piece, is to end the primary next week and give Tillis six whole months to batter Kay Hagan. If he failed to, he'd waste millions in a runoff against, most likely, Brannon. Thus, Brannon has to be strangled over the next six days.