How Do I Get the AR-15 Ron Paul Is Offering Me?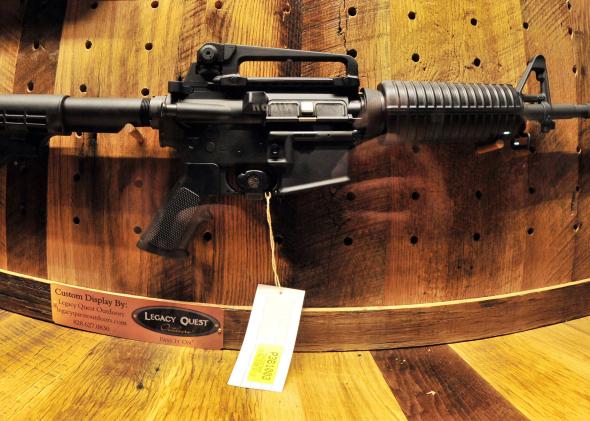 Should I accept a gun from Ron Paul? Few people have probably ever asked themselves that question. But an opportunity has arisen: Campaign for Liberty, or C4L, a lobby group that purports to "promote and defend the great American principles," is giving away an AR-15 to one lucky patriot who signs up for a giveaway through this link. Ron Paul is the group's chairman. Giving away the gun (according to his letter's closing) is "for Liberty." Of course, it's also a fundraising ploy: Entering to win directs you to a donations page.
C4L cannot directly raise money for politicians or candidates. But candidates themselves can give out guns in the hopes of greasing their campaigns. A slew of them have done so recently. There was Paul Broun of Georgia. (Alas, that particular contest closed Feb. 27). A South Carolina state senator named Lee Bright, who is challenging Lindsey Graham in the Republican primary, also gave one away in February. (About 1,500 people entered to win.) Rep. Steve Stockman, who lost soundly to Sen. John Cornyn in the Texas Republican senate primary race, tried the same trick last year. Even pastors are giving out guns to fill their pews (and presumably, collection plates). God and country want you to be armed.
C4L's spokeswoman explained to me that were I to win their raffle, it would be my responsibility to go to a Federal Firearms Licensee (a gun dealer) to get my background checked before I could receive my weapon. A check is required for any transportation of arms across a state line, as well as for receipt from dealers. C4L would transfer the weapon to the gun dealer, who would then give it to me if I pass. The winner of Bright's campaign followed this procedure. But, as Matt Bennett of Third Way told me, federal law does not in fact oblige the organizers to order background checks because they aren't licensed gun dealers themselves. They do it because of the obvious risk for a political group of handing a gun to a complete stranger—a point that apparently has no affect on their pro-gun rights position. I would also need to prove that I had the proper additional ownership or transport licensing to possess the gun in my state, if my state requires them (though I suspect that to avoid legal issues cropping up, a giveaway organizer might see to it that someone from one of these states doesn't win).
But private transfers without checks can be carried out with impunity—you could actually build an AR-15 and give it to your neighbor's cousin, say, and under federal law, no one needs to check anything. The transfer of weapons has also proliferated in online markets with little oversight.
The uncomfortable thing about gun giveaways in the service of political enterprises is this: Whoever enters is probably not doing so thinking she might get a gun because she is qualified to own one. One does not have qualifications in mind when one enters.
Yes, organizers exercise at least the discretion of checking backgrounds. But the implicit message of a candidate's gun giveaway is that an entrant—whether she is mentally healthy or not, has a criminal record or not, knows how to use a gun or not—has a right to an assault weapon by virtue of her entry. And her senator supports that position. He may not say so, but that's the meaning behind a free AR-15.