Republicans Poll to Expand the Senate Map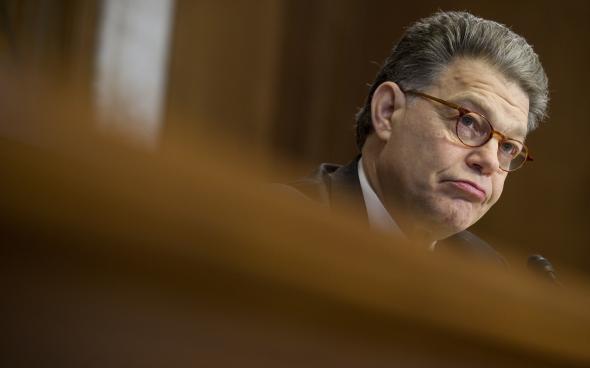 Earlier this week, the Koch-allied group American Encore released a poll of Minnesota that found Sen. Al Franken with a wan 40 percent approval rating. No credible candidate has jumped into the race against Franken, but the poll suggested to anyone looking that, hey, maybe, this is the year to go for it. Today, Harper Polling released a study of Oregon that found Gov. John Kitzhaber struggling against an opponent and Sen. Jeff Merkley up only 7 points on a conservative state legislator. If you've been paying attention, you may be reminded of the poll the NRSC commissioned after Colorado Rep. Cory Gardner thought he might run for Senate. The poll gave him a shot—he jumped in.
The pollsters are all taking advantage of something known as the "incumbent rule," a trope that Nate Silver really should deal with at some point. As the theory goes, an incumbent "polling under 50 percent" is in danger because potentially 50.1 percent (or more) of the electorate is ready to make a switch. The theory's not crazy, but it doesn't take into account different sorts of polling, question ordering, name recognition, or other factors.
That means it's often wrong. Here are just some of the senators who polled below 50 percent at this point in 2012: Sherrod Brown, Jon Tester, Bob Casey, Dean Heller, Debbie Stabenow, Bob Menendez, Claire McCaskill. The last of them got a famously awful opponent (Todd Akin), but Brown, Tester, and Heller all got the opponents that the national parties wanted, and Menendez and Stabenow ran against credible current or former legislators.
The "incumbent rule" is broken far too frequently to be a "rule." But that's not quite the point of the pollsters or the conservatives talking about their numbers. The point is to urge as many serious candidates and—failing or allowing for that—as much big money into safe Democratic races as possible. This is why some third-party groups went on the air in Minnesota and Pennsylvania in 2012, attempting to scare Democrats into spending their own money there, sucking it out of their plans for Ohio or Florida. Few Republican consultants think Ed Gillespie or Scott Brown will win Senate seats this year,* even if they're too nice to say so. That's not the point. Every dollar Mark Warner spends to put away Gillespie is a dollar he can't move from his campaign fund to an endangered colleague's.
*I'm earmarking this for my annual prediction audit.