#McConnelling: From Sweden to Iowa to Alaska, Everyone's Doing It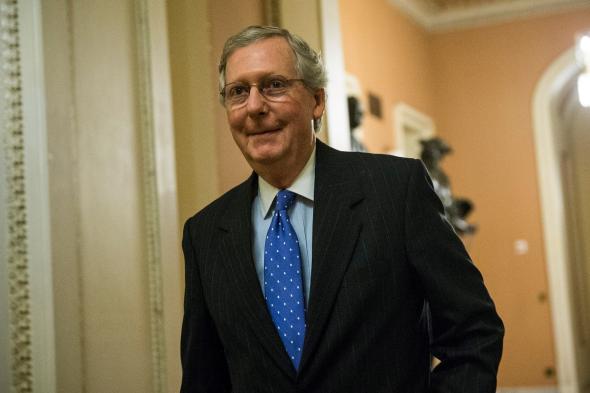 #McConnelling is the name the Internet gave to the manipulation of Mitch McConnell's oddly compelling compliation of B-roll footage. After people noticed the thing on McConnell's YouTube account, much cheap fun was had by overdubbing an ill-fitting new song or inserting the Senate minority leader's turn-to-camera grin into 1990s show openings. The Daily Show discovered it, and then Sweden's TV4 made a parody starring its reporter Anders Kraft.
It's been left up to Paul Blumenthal to point out that lots of campaigns are doing this—chucking B-roll on the Internet so super PACs can grab them without "co-ordinating." Here's Iowa's Bruce Braley, before his tough week.
Here's Sen. Mark Begich, who—and I'm just assuming from the context—is from Alaska.
Continuing our march across time zones, here's Hawaii Sen. Brian Schatz, appointed in the winter of 2012 and fighting uphill against a primary challenger.
It's just assumed that uploads like these fit within the letter of campaign finance law. Sure, that's not what campaign finance watchdog groups like Democracy21 are saying when they issue public letters to the McConnell campaign. "The 'B-Roll' scam is being used by candidate campaigns to provide Super PACs and 501(c)(4) groups with video footage to use in their ads supporting the candidate," wrote Democracy21 President Fred Wertheimer in the letters, last week. "The only problem here is that this 'B-Roll' scam is illegal."
Good luck proving it. The "B-roll scam" can go on until 1) the campaigns become embarrassed or 2) the FEC, equally divided between the parties, rules against it. And outcome 1 is far more likely that outcome 2.