Here's Why Obama Is Worried About Democrats Losing the Midterms: The White Vote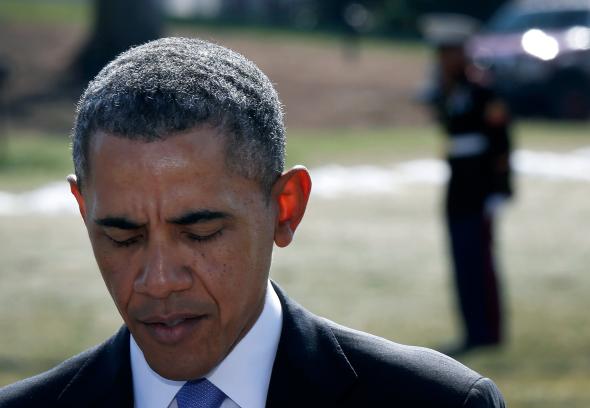 Earlier this week, in one of the "watch out below" speeches an increasingly embattled President Obama has to give, he warned his party that Democrats always get "clobbered" in midterms. Kate Zezima begs to differ.
[T]he President seems to forget the drubbings that Democrats have given Republicans in mid-terms past over the last 30 years.
Democrats trounced Republicans in 2006, picking up 31 House and six Senate seats, enough for a majority in each chamber. In 1998 the party vastly outperformed expectations, picking up five seats in the House and leaving Republicans unable to increase a 10-vote margin in the Senate. Democrats really won big in 1982, claiming 27 House seats, and even bigger in 1986, when they took control of the Senate.
I think this misses the point. Obama, very subtly, was confirming the new, scary conventional wisdom among Democrats that they can no longer win unless they bring out younger and nonwhite voters who traditionally skip midterms and off-years. It didn't used to be this way—Democrats were monumentally stronger in the South in 1998, holding most state legislatures and plenty of majority House seats. But in the Obama era, the Democrats have had to win without the white vote. Here:
In 2006 the electorate was 79 percent white. Didn't hurt the party; boosted by the Iraq War backlash, Democrats won 47 percent of the white vote, up from 41 percent in 2004.
Then came 2008, the best Democratic election in a generation. Barack Obama won only 43 percent of the white vote in an electorate that was 74 percent white.
In 2010 the electorate vanilla'd up again—77 percent white this time—and the white vote for Democrats collapsed. They won only 37 percent of it, and only 34 percent of white men.
Now, here's the part that worries Obama. In 2012 the president won re-election despite his share of the white vote tumbling to 39 percent. How'd he do it? Whites made up only 72 percent of the electorate. Michael Dukakis had won exactly as much of the white vote as Obama, and look how he turned out. Twenty-four years of growing racial diversity and a black candidate at the head of the ticket worked wonders.
In 2014 the Democrats fret that the electorate will slip back to 2010 levels of diversity. They prevented a similar tumble in Virginia last year, but Virginia's now a stronger Democratic state than the ones where most competitive Senate races are taking place—Alaska, Arkansas, Kentucky, Louisiana, Montana, North Carolina. (Democrats already expect to lose South Dakota and West Virginia, both states that have fallen out of the competitive range in presidential elections.)
Take Louisiana, a state that had not elected any Republican to the U.S. Senate until 2004. In 2008, with Obama on the ticket, the electorate was only 65 percent white and Mary Landrieu survived despite taking 33 of that vote. In 2010 the electorate was 71 percent white. Democrat Charlie Melancon won only 22 percent of the white vote.
You can guess what happened to Melancon. If the same electorate showed up in 2014, Landrieu would lose handily. Obama was dog-whistling past the graveyard.