Senators Celebrate Being Sanctioned by Russia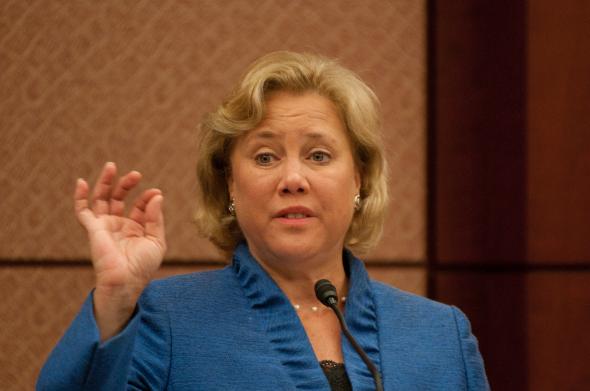 You're nobody if you're not being sanctioned by the Russians. As Josh Rogin first reported, Russia planned to respond to the White House's sanctioning of 11 Russians and their allies (including the ousted president of Ukraine) by sanctioning a few Americans. This made sense only under the most basic playground rules, because there's not much clamoring, by powerful Americans, to tour Russia or hide money there. But, hey, only fair.
The sanctions came down today, and politicians are taking their turns laughing at them and reaping the political benefit. In a comment to Politico, John Boehner's spokesman said the speaker was "proud to be included" on Russia's list. Comments from the sanctioned senators—Dan Coats, Mary Landrieu, Harry Reid, John McCain, and Bob Menendez—are just starting to roll in. (McCain had already told Rogin, sarcastically, that he'd have to close his secret Russian bank account.)
"While I'm disappointed that I won't be able to go on vacation with my family in Siberia this summer, I am honored to be on this list," said Coats via a statement. "Putin's recent aggression is unacceptable, and America must join with our European allies to isolate and punish Russia. I will continue to lead efforts on Capitol Hill to bring Putin to his senses."
Landrieu, the least obvious member of the list, is the only one fighting a tough re-election bid this year. We're still waiting on her to gloat, because, well, what point will she decide to score? Remind voters of her campaign against Russia's adoption ban? Talk up energy exploration now that she runs the Energy and Commerce Committee? So many possibilities for a rare flattering story.
UPDATE: And Landrieu weighs in to the Times-Picayune.
Being sanctioned by President Putin is a badge of honor. It will not stop me from using my power as chair of the Energy Committee to promote America as an energy superpower and help increase energy exports around the world. We must minimize Russia's influence over Europe, the former Soviet states -- especially Ukraine that has fought so long for freedom -- and our allies. And it most certainly will not stop me from advocating for orphans in Russia and around the world.
So she went for the kitchen sink.