Marion Barry Tells White People to Be More Open-Minded, Endorses Black Mayor of D.C.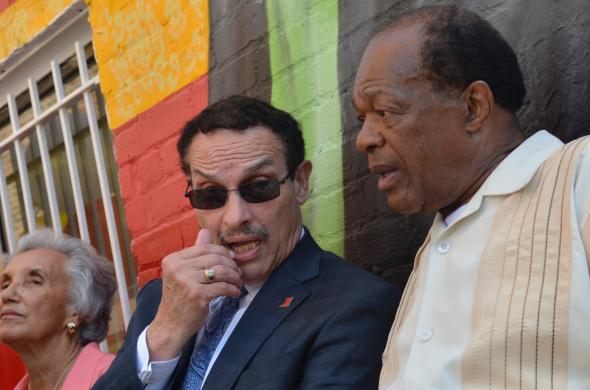 Washington D.C.'s got an early Democratic primary this year—April 1 (no jokes!)—and the most competitive race for mayor in more than a decade. Four D.C. Council members, most of them with constituencies in D.C.'s gentrifying Northwest, have piled in to take on Mayor Vincent Gray. With every week, every revelation of the illegal money that aided his 2010 victory, Gray looks weaker. He leads in polls, helped by the splintered field, but he needs a base to come out for him.
Enter Marion Barry, who to the occasional disgust and amusement of the gentrifiers remains on the D.C. Council. (He retired from politics in 1999, got bored, and defeated a protégé for a council seat in 2004.) Barry, 78 years old and visibly struggling, endorsed Gray at a press conference in his ward, in Southeast D.C., an event clearly designed to shore up black votes. In 2010 Gray successfully primaried Mayor Adrian Fenty by romping with black voters. Gray won 82 percent in Barry's Ward 8, for a margin of 8,453 votes. He did even better in Ward 7, also east of the Anacostia, racking up nearly 12,000 votes over Fenty. Gray's citywide margin: 13,124 votes.
And so Barry, who recently got out of the hospital, showed up and turned the subtext into text. "I think it's up to white people to be more open-minded," he said, "and blacks are more open-minded than they are. Simple as that."
The remark turned into copy at the AP and Washington Post pretty quickly. I'm not at all convinced that's bad for Gray. He won a basically one-on-one race last time with the backing of black voters. In 2014 he faces two black opponents in council members Vincent Gray and Muriel Bowser, but a poll last week gave him 41 percent of the black vote to Bowser's 20 percent. (Vincent Orange, an odd but occasionally successful perennial candidate, is polling much lower.) Even as D.C. gets more populous and proportionately less black, the black vote makes up more than half of the Democratic electorate.
But that's just it—there's a fleeting sense about this race. Longtime council member David Catania—white, gay, a Republican-turned-independent—has entered the general election with the expectation that Gray will win the primary and be beatable in November. In last week's poll, after all, more than 80 percent of white Democrats said the ongoing investigation into Gray's 2010 campaign made them less likely to support him. Only 33 percent of blacks agreed. There's room for growth there, but it's hard to find it in a Democratic primary.
After the endorsement event, Gray's campaign posted this video of Marion Barry on the trail. Yes, this eight-second clip is a campaign-sanctioned, momentum-proving product.