Rand Paul Is Asking Kentucky to Let Him Run for Senate and President Simultaneously, but Does He Need To?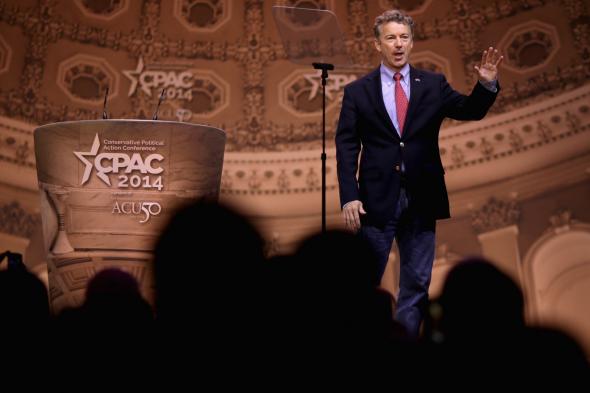 Kentucky's state Senate, which has been run by Republicans for years, has passed a bill that would clarify state law and allow Rand Paul to run for president while running for re-election to the Senate. Joe Biden ran on two national tickets in 2008, as did Joe Lieberman in 2000, as did Lloyd Bentsen in 1988—as did Rand Paul's father, Ron Paul, in his second presidential bid. (He retired from Congress while making his third and final bid.) Sam Youngman reports that two Democrats joined nearly every Republican to pass the bill.
Paul is enjoying a turn as frontrunner for the Republican nomination — "better than even odds to be the next president of the United States," said state Sen. Joe Bowen — after a CNN poll and two notable straw polls put the senator at the top of the field.
"We know there are 318 million people approximately in this country ... and right now you can make a legitimate list of 10 or 12 of them who have a chance to be the next president of the United States," said Sen. Damon Thayer, the sponsor of Senate Bill 205. "Sen. Paul is currently, according to polls and pundits, the frontrunner for the Republican nomination to be president of the United States."
I maintain that Paul's presidential odds are overrated by the polls—the one time Ron Paul was a "frontrunner," for a week or so in the 2012 Iowa caucuses, the media pounced on him—but fair enough for Kentucky. Youngman reports that the state House, currently run by Democrats, is balking at the bill (strangely, they don't buy that it would help the national ambitions of Rep. John Yarmuth, as those ambitions do not exist), but Republicans can try to take the House by the time Paul runs.
If they don't? This really shouldn't be a huge problem. In the off chance he becomes a presidential nominee, Paul could stay on the ballot for U.S. Senate in Kentucky, get on the ballot in 49 other states, then ask the Republicans to put a slate of faithful electorals in place in his home state. The Republican slate, understood to be the Paul-Cruz (I'm assuming) slate, would presumably win Kentucky. When the Electoral College met, the Republicans would give their votes to Paul. This was the ruse/trick/democratic triumph some Southern Democrats used when their party saddled them with John F. Kennedy in 1960.