Mitch McConnell Dispatches a Cop to Keep an Alt-Weekly Reporter out of a Press Conference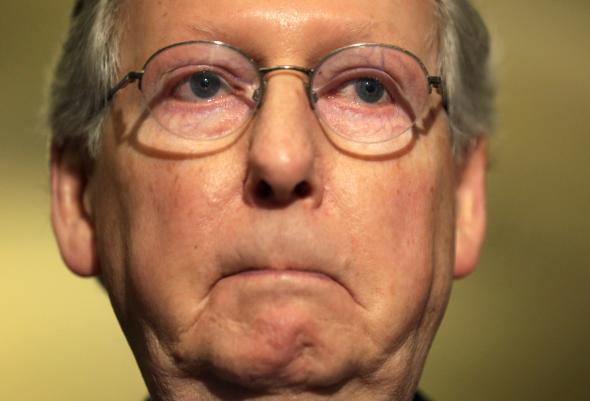 This was supposed to be an easy news cycle for Mitch McConnell. Just as the Senate broke for a weeklong recess, McConnell's campaign put three minutes of b-roll on YouTube, and half the Internet made fun of it. The process of syncing McConnell video to goofy music or '90s sitcoms became known, immediately, as #McConnelling. On Monday in Louisville, McConnell got a free shot at extending the (rare, for him) humanizing story.
And then the cops blocked Joe Sonka from reporting it.
Sonka, age 36, is a political columnist/blogger at Kentucky's LEO Weekly. Like a lot of good alt-weekly reporters, he gets to have fun with his beat, reveal his opinions, and ask questions for profiles. A perusing of his canon finds that he takes shots at both parties' candidates. He joined the paper in 2011, and before that he blogged at Barefoot and Progressive, which has the ideology you'd expect. But Sonka wrote up the b-roll video, the inspiration for #McConnelling, in roughly the same tone as everyone else. ("I'm not saying there's a spy in the McConnell campaign deliberately putting out ridiculous videos simply to entertain or terrify us.")
On Monday, as he has told other reporters and now told his readers, Sonka was denied access, via email, to a McConnell presser. He showed up anyway. Here's his story of the interaction with campaign manager Jesse Benton.
Once I arrived to the hotel lobby, I walked up to Jesse Benton and said hello. Benton immediately informed me that I was not invited and would not be allowed into the room next to us where the presser was to be held. I looked into the room and noted that it was both large and mostly empty, and Benton informed me that their "limited space" argument for denying me entry was not true at all. Benton gave me a rather bizarre and implausible excuse that another reporter had told them they did not want me covering McConnell's events, because they didn't like the questions. Benton refused to say who that supposed reporter was — and every Kentucky reporter I've talked to since says this claim by Benton is completely ludicrous. After I told him that he obviously made up that story, I asked him why on earth would I believe that his campaign takes orders from reporters on who can and cannot cover their events, which he struggled to answer.
After some back and forth, Benton offered me what he called a "gentleman's agreement." He said I could enter the room to cover the event, but only on the condition that I not ask McConnell any questions. I asked Benton if other reporters would be allowed to ask questions, and he said yes, just not me. After I told him that I would like to ask a question, Benton immediately informed me that he would summon the police to have me arrested if I tried to enter the room.
After pressing Benton with more questions about why he was so afraid to have me ask a question — and the campaign's multiple and evolving rationale — he finally declared loudly, "Joe! I'm being a gentleman here." When I replied by asking him how threatening me with arrest for covering a press conference with plenty of room is being a "gentleman," he cut me off and said, "Joe! You're not going in there," and walked away.
Later, when Sonka tried to enter, a police officer was dispatched to deny him. The whole incident's made it to the op-ed pages in Kentucky, with (understandably) not many in the media defending McConnell, and (predictably) the campaign complaining on Twitter about the fuss over a "liberal activist." Neither the larger McConnell campaign nor Benton will talk about this on the record, but what McConnell allies tell me is that the event was private, invite-only, and that Sonka was the sort of reporter who might pull a stunt.
Sonka points to his record of interactions with McConnell, a video of one of them now hosting at the LEO Weekly blog. The press avail was only "private" insofar as it was released to the usual subscribed list of reporters, and Sonka has been removed from that list. According to Sonka, a Rolling Stone reporter who'd simply shown up for the event fretted that he'd be denied access. He wasn't. He got in the room.