Scott Brown Laughs Off the Idea of Another No-Outside-Money Campaign Pledge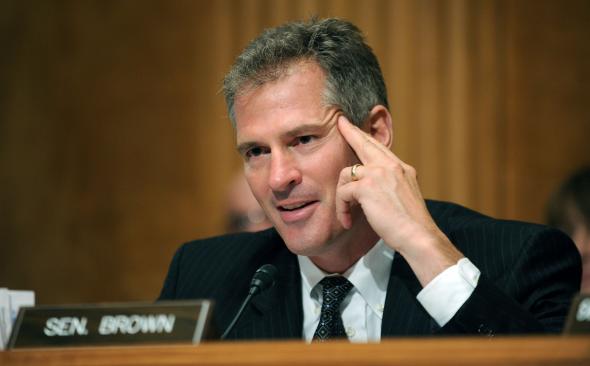 Back in December, the conservative 501(c)(4) Ending Spending spent $100,000 to run this ad in New Hampshire.
In January, Americans for Prosperity spent $700,000 on New Hampshire media for a very similar ad. Not that they were coordinating—hey, "if you like your plan" is the goose that keeps on laying eggs.
It was into this climate that the Senate Majority PAC, a pro-Democratic group, finally struck. It dumped $150,000 on this ad, which angered Scott Brown. "Not even a candidate and they are in attack mode," he told Politico. "Is that even legal?"
The point of the Ending Spending/AFP buy was to encourage someone—OK, to encourage Brown—to enter the race. Come in, water's fine, money's flowing. Brown was obviously encouraged, by a number of factors, to enter the race.
So over the weekend, while on a West Coast fundraising tour with the DSCC, Shaheen issued a statement asking if Brown would sign a new version of the leave-us-alone pledge he signed in his 2012 Senate race. That year, when he started out with a huge fundraising advantage against first-time candidate Elizabeth Warren, Brown agreed to a "People's Pledge," a sort of Citizens United START Treaty, that cut outside spending to about one-tenth of what the candidates themselves spent.
Would Brown do it again, with Shaheen? No.
"Before I even thought of becoming a candidate, Jeanne Shaheen's allies in Washington were running negative ads against me for months," said Brown in a statement. "And right now, while I'm meeting with the people of New Hampshire, she is on the West Coast raising money so third-party groups in D.C. will have money to run even more outside negative ads against me. It's hard to view Jeanne Shaheen's actions as anything other than hypocritical and self-serving. The people of New Hampshire can see through the Washington-style game she is playing."
If you're a gourmond for chutzpah, you've got to enjoy that statement. Brown, the guy who moved up the highway after losing a Senate seat in his home state, is the one "meeting with the people of New Hampshire." (He is right now, but come on.) The pro-Shaheen PAC's ad buy, less than one-fifth as big as the anti-Shaheen ad buy, represented an unconscionable offense. By coincidence, American Crossroads is about to spend $650,000 on ads for Brown, days after he started an exploratory committee. The chutzpah has a purpose: In other circumstances, Brown might look like he's hypocritically going back on a good-campaign standard now that he needs the outside money.