His First Book Tore the Organization Apart. Why Is the President of FreedomWorks Writing Another?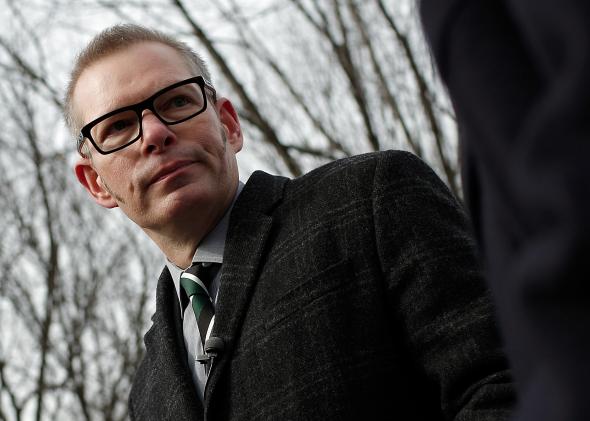 When the story of FreedomWorks' public problems is told, it usually starts with the book deal. According to Ken Vogel, tensions between FreedomWorks' president, Matt Kibbe, and its chairman, Dick Armey, boiled over "when Armey balked at a deal that Kibbe struck with HarperCollins to write a book called Hostile Takeover: Resisting Centralized Government's Stranglehold on America." Kibbe and Armey had collaborated on a book about the Tea Party, but Kibbe was doing this on his own and—to Armey's surprise—claiming that the entire thing had been churned out over a Christmas vacation, not with the help of FreedomWorks staff.
Cue: Armey leaving FreedomWorks on a $8 million golden parachuse. Cue all of this playing out in Mother Jones, not exactly a friendly Tea Party outlet. The publication of Hostile Takeover, and its subsequent promotion, was either a spark for the inferno or a strange hubristic distraction. According to Nielsen's BookScan, the Armey-Kibbe book had sold 20,000 copies. Kibbe's own book sold only 10,000, and multiple reports claimed that the organization had purchased thousands to boost sales/distribute the wisdom to activists.
Why do I bring this up? Because next month, Kibbe is releasing another book. Don't Hurt People and Don't Take Their Stuff is being released by William Morrow, publisher of the first two books autored or co-authored by Kibbe. Like Hostile Takeover, its cover art calls Kibbe a "#1 Bestselling Author," a reference to the defunct Washington Post Book World's No. 1 ranking for the Armey-Kibbe book. (Hostile Takeover never went to No. 1, here or in any book list.) I noticed the book's promotion when I stopped by this year's Students for Liberty conference and saw, in the promotional book, an ad encouraging attendees to "tune in, turn on, drop out" and watch Kibbe's speech on the book's theme. ("Don't kill people and take their stuff," a similar way of putting the idea, was coined by the conservative pundit Bill Whittle.)
The Internet has yet to buzz with anticipation for the book, but Glenn Beck's sort of been talking it up. This is significant. According to a 2013 interview that Dick Armey gave Media Matters (he later said he was confused about who was calling), FreedomWorks handed Glenn Beck a million dollars for promotion and partnerships. The golden-voiced radio host has delivered, in ways, though when he tried to talk up Don't Hurt People on his show, the result was a strange garbling of the title that made it on to one of Beck's official YouTube accounts anyway.
I asked FreedomWorks how many copies of Hostile Takeover had been purchased by the group. (The book is now available, in hardcover, at a steep discount.) I didn't get an answer. The group had a successful morning, though, getting Politico to report exclusively on a batch of new endorsements of House Republican incumbents—including Rep. Louie Gohmert, whose primary is already over.