Obamacare's Sad Magic Number: 106,185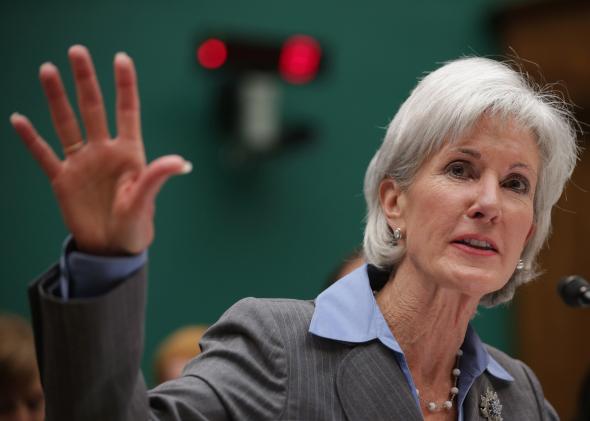 The Department of Health and Human Services has some unsavory bit of news to digest this afternoon: in the month of October, only 106,185 people signed up for the federal health care exchanges. (As WonkBlog rightfully points out, this doesn't necessarily mean all those people have health care now, as the White House includes people who haven't paid for their plans yet.) The Obama administration's original goal was to enroll 500,000 people by October 31.
Of that total, just 26,794 people have successfully signed up for the federal exchanges through healthcare.gov so far. That's even lower than the Wall Street Journal report from Monday that 40,000 to 50,000 people successfully signed up on healthcare.gov in October.
Advertisement

The lion's share of enrollees—79,391—signed up through state exchanges, with the majority coming from California. Talking Points Memo's Dylan Scott has the goods:
The bottom line is: The federal website is dramatically underperforming. In Texas, which is using HealthCare.gov, less than 3,000 people have enrolled. In California, which built its own marketplace, more than 35,000 have.
Update: In a conference call with reporters, HHS Secretary Kathleen Sebelius acknowledged the beleaguered federal site, but emphasized the relative success of the expanded public insurance—396,261 people have been deemed eligible for Medicaid/CHIP benefits. If you're having trouble keeping track of all the enrollment numbers, HHS created this handy flow chart.
Spokeswoman Julie Bataille said that by the end of November, users will be able to move faster through the system, experience fewer error messages, and be able to complete their applications in one sitting, and noted the site's error rate is now down to less than 1 percent.
A Telemundo reporter asked about the Spanish language version of healthcare.gov. When would it be up and running? "Yes, you are correct," Bataille replied. "Next question?" (She later said she'd follow up with the answer.)
TODAY IN SLATE
Medical Examiner
Here's Where We Stand With Ebola
Even experienced international disaster responders are shocked at how bad it's gotten.