Fear of Killer Biker Gangs Not Helping GOP Candidate for NYC Mayor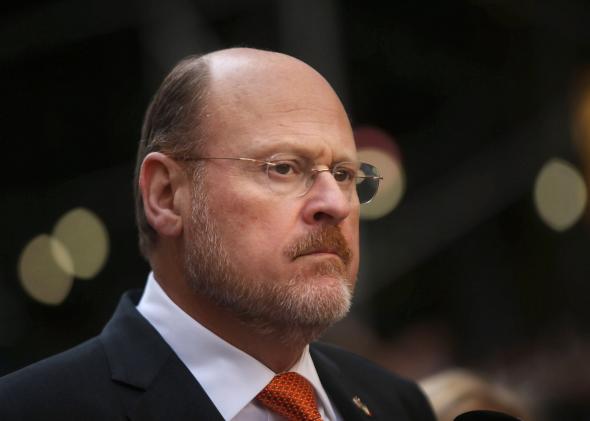 The road to "historical footnote" status has been rocky for Joe Lhota, in ways that he could have foreseen. The Republican candidate for mayor of New York never had much of a chance of winning unless Democrats whiffed and accidentally nominated crotch enthusiast Anthony Weiner. (No poll ever showed Weiner having a snowball's chance in a Democratic runoff.) Bill de Blasio, the city's public advocate, doesn't have Lhota's executive experience, but he's a Democrat in an era of low crime rates. Lhota's response to this threat: pretending that de Blasio will drag New York back to the David Dinkins era.* He spent days attacking de Blasio's former advocacy for the Sandinistas and he closed out last week with an ad capitalizing on the story of a biker posse that attacked a motorist.
Any fan of scaremongering has to appreciate this. Is New York currently under siege by "biker gangs"? No. What sort of men comprise these gangs? In some cases, like the "road rage" case, off-duty cops do.
The result of this attack, according to the New York Times/Siena poll:
Mr. de Blasio, a Democrat who is currently the public advocate, leads his Republican opponent, Joseph J. Lhota, a former chairman of the Metropolitan Transportation Authority, by 45 points among likely voters, according to a New York Times/Siena College poll. That lead, which has remained remarkably consistent in multiple polls over the last six weeks, suggests that Mr. de Blasio could win the most sweeping victory in a mayor's race since 1985, when Edward I. Koch was re-elected to a third term with a crushing 68-point margin of victory over his opponents.
What's amazing, as the Times points out, is that Lhota's line of attack has completely backfired on him. His unfavorable rating is now 46 percent, 21 points higher than his favorable rating. De Blasio's rating: 40 points on the positive side. I see the seeds of a "told you so" campaign here if Mayor de Blasio falters, but I see nothing that suggests this election is more competitive than the old "yes/no" votes Mobutu Sese Seko used to hold.
*Inevitable note: Crime started to fall in Dinkins' last year, after he gave the city's police force to current commissioner Ray Kelly.