Anthony Weiner's Last Stand on Last Word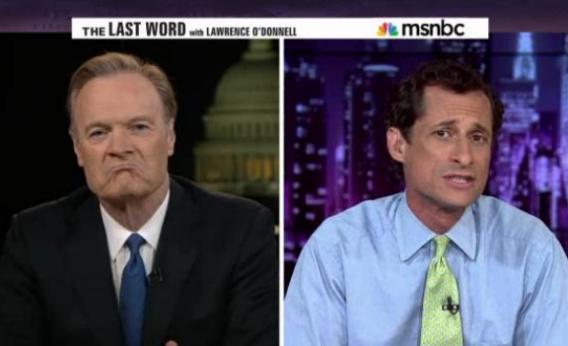 Lawrence O'Donnell (aka Keith Olbermann II) operates under the notion that journalism happens when interviewer and interviewee are each working at the upper registers of their voices. His MSNBC show, The Last Word, is the liberal equivalent of The O'Reilly Factor or, moreso, Sports Shouting. (See also: O'Donnell's hostile, condescending interview about Edward Snowden with Julia Ioffe, the New Republic's Russia expert.)
This type of interview format has zero societal value other than to generate "buzz" for both aggressors, so when O'Donnell had Anthony Weiner on his program Monday night, it was sure to make us all a a little dumber. Its saving grace is getting to hear Weiner utter the phrase "Chillax, buddy." Watch below:
Advertisement

"Newsroom-esque levels of sanctimony," commented CNN's Peter Hamby. RealClearPolitics' Scott Conroy replied that O'Donnell "joins Sydney Leathers & the guy in the deli on the list of people who've made Anthony Weiner seem likeable in comparison."

But the telling detail came when Weiner asked O'Donnell questions that could have come from his own therapist: "What's wrong with you that every night you have to be on television? You need all that attention? What are you craving? What do you have to prove?" It's like watching two mimes perform mirror images of each other.

TODAY IN SLATE
The Extraordinary Amicus Brief That Attempts to Explain the Wu-Tang Clan to the Supreme Court Justices
The Human Need to Find Connections in Everything
It's the source of creativity and delusions. It can harm us more than it helps us.