Conservatives and Journalists Alike Fall for Reince Priebus' "Racist" Misquote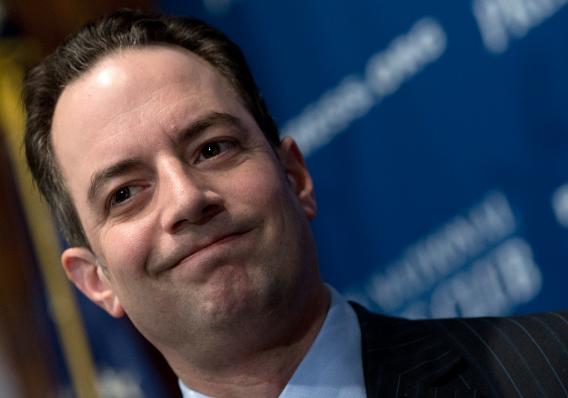 Twitter is a fantastic medium for breaking news, but as we learned during virtually every major breaking news event in the past year, it can also turn into a veritable aviary of users parroting each other's falsehoods. Just that happened today, when a Business Insider story mistakenly quoted Reince Priebus, the chairman of the Republican National Committee, as saying self-deportation is "racist" during the RNC's summer meeting in Boston. The misquote in question comes in around the 30-second mark here:
You can hear Priebus say, "Obviously, it hurts us," which could be misheard as "Obviously, it's racist." It's telling that that was more than enough to set off Drudge-sirens in conservative talking heads' brains—so paranoid are they about RNC leadership that they believed Priebus would say something so stupid:

But it wasn't just partisans who found it Friday afternoon catnip—bored political journos latched onto the quote, and the original misquoter, Business Insider's able Brett LoGiurato, apologized gracefully. Far be it from me to lord over anyone who's reported inaccurate information on Twitter—in an otherwise bone-dry spell of political news, hearing that the face of the GOP called Mitt Romney's immigration platform "racist" would put any political junkie's prefrontal cortex on the fritz. But next time, let's all agree to take a minute to work through whether the guy who said President Obama was "grossly negligent" with immigration reform would say something that inflammatory at a huge gathering of partisans, yeah?