Russ Feingold Calls NSA Report "Deeply Troubling"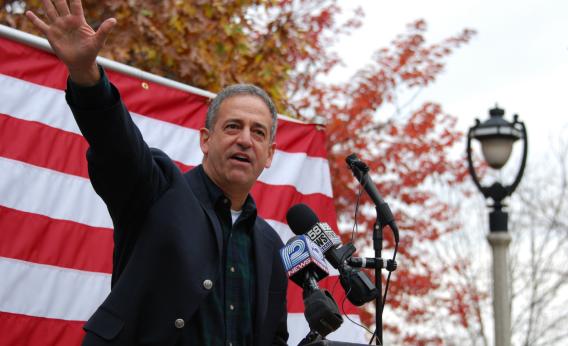 It shouldn't be too surprising that Russ Feingold, the former senator from the great state of Wisconsin and the only senator to vote against the Patriot Act, is not a fan of the NSA's phone snooping. He called the NSA report "deeply troubling" in a statement:
In 2001, I first voted against the PATRIOT Act because much of it was simply an FBI wish list that included provisions allowing our government to go on fishing expeditions that collect information on virtually anyone.

Today's report indicates that the government could be using FISA in an indiscriminate way that does not balance our legitimate concerns of national security with the necessity to preserve our fundamental civil rights. This is deeply troubling. I hope today's news will renew a serious conversation about how to protect the country while ensuring that the rights of law-abiding Americans are not violated.
Some important context, however, is his frenemy-like relationship with President Obama. Feingold co-chaired Obama's re-election campaign, but their views diverged on the 2005 reauthorization of the Patriot Act. Obama gave a now-telling response showing where his views diverge from Feingold at a town hall in 2008 when an attendee asked him to explain why he voted to reauthorize the Patriot Act.
The first Patriot Act, I wasn't there so I did not vote for that. The second one, I actually worked with Russ Feingold, who is one of the people who opposed it, to try to amend it to deal with some of its excesses. There were some provisions in the Patriot Act that actually did address changes that needed to take place, and let me give you a specific example. Prior to the Patriot Act, you could not wiretap a phone that wasn't land-based. Now think about it: Nobody uses a land-based phone anymore. Certainly people who might be engaging in terrorism aren't going to be using an old dial-up phone, right? So it made sense then to change that law. And there were some other provisions that made sense. ...

The biggest problems that we're facing right now have to do with George Bush trying to bring more and more power into the executive branch and not go through Congress at all, and that's what I intend to reverse when I'm president of the United States of America.

Relatedly, Sen. Rand Paul is already planning to introduce a bill Friday that would rein in the administration's authority to surveill Americans. Paul/Feingold 2016?