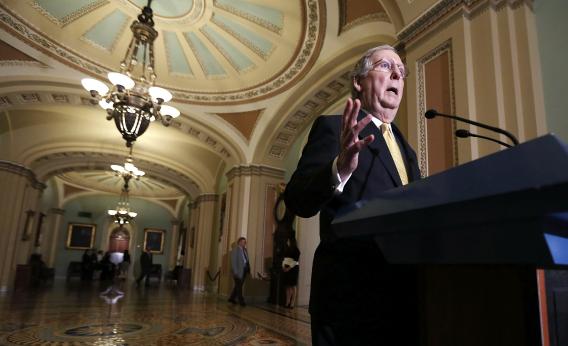 Like a Molly Bloom soliloquy, the National Republican Senatorial Committee is depicting GOP senators as the ultimate yes-sayers in this new ad:

"It may not seem like it, but we say yes a lot. We say yes on jobs for you. On opportunity. We say yes on the future. It's what we do to make things better."

Is it a transparent effort to turn liberal slogan of the right as "the party of No" on its head ahead of the 2014 cycle? #Yes. Google searches for "Republican party of no" spiked before the 2008 and 2012 elections, though that second spike is likely also thanks to this September 2012 TIME cover story by Michael Grunwald. (For what it's worth, searching "republican party of yes" didn't return enough results to graph.)

It's hard to rebrand "nay" votes on gun control, Obamacare, and more stimulus, not to mention filibuster reform, as "yes to the opposite of those things." But negative ads work, in moderation. So the NRSC et al might do well to embrace their image as the party of, "Oh, hell to the naw."