"Contagion," A Great Recession-Era Horror Flick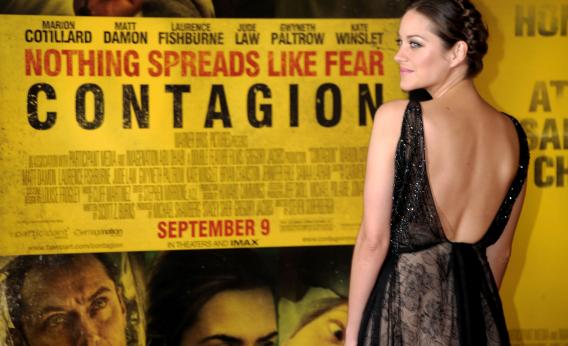 If actual critics have already provided this analysis of Contagion, and this is a widely-held banal opinion instead of just a regular old banal opinion, I apologize. But I walked out of the theater yesterday feeling like I'd seen the first great horror movie about the Great Recession. Given how Steven Soderbergh previously turned a simple hooker-with-dreams story (The Girlfriend Experience) into a story of the 2008 economic collapse, I don't think this is a reach.
Let's start by comparing Contagion to Outbreak, the star-studded 1995 virus thriller. Released at the start of the 90s boom, Outbreak is a basically optimistic thriller. The scary maps of how the virus could spread are just that -- scary, to be thwarted by our heroes. Good government scientists defeat bad government bureaucrats. The virus comes out of Africa (a nod at the Ebola scare, and at worries about AIDS), and is spread because someone steals a monkey to make a buck on the black market.
Contagion has no time for that fairy tale crap. The virus, as we discover by the end of the film, was created when a bat dropped a morsel of food into a den of pegs, because in fast-industrializing China, both of their habitats were artificially coming together. It's spread by an American woman on a business trip to China. Later, when a WHO scientist is working with the Chinese to develop a narrative of how the virus was spread, she is kidnapped in exchange for villagers getting the first crack at a vaccine. Kidnapping government officials is something we associate with dangerous parts of Pakistan and Afghanistan, not China, but this storyline evokes the fear a lot of Americans have about the eastern superpower supplanting us at the top of the food chain.
In America, the government's efforts to thwart the spread of the virus and to prevent panic are both failures. Why? The impediments include local governments, who are annoyed with hype and cost -- when a stadium is taken over to become a sick bay, annoyed local officials ask who's paying for it. (Signs for FEMA go up around the stadium after that.) They include unions, who panic and keep essential employee from working. And they include bloggers who feed on paranoia, personified by Jude Law's character, who easily picks apart Lawrence Fishburne's CDC director in a CNN showdown because paranoia is much easier to sell then "all-is-well" doubletalk. It's easy to imagine the same scene playing out between Austan Goolsbee and some skeptical Fox Business host in 2009 or 2010, because it did.

So: Lots of people die, and that's fairly scary. I think the scarier part comes at the end, when Bryan Cranston's super-efficient DHS official holds a lottery to determine when people will get vaccinated, and when Matt Damon's survivor gets access to a mall with the now-mandatory "I'm not sick" wristband. The horror is not over: People have adjusted to a new, more terrified, more paranoid, less populated existence, one of long lines for shots and MREs. A concluding scene in which Damon's daughter has a faux "prom" at home is equal parts sweet and blood-curdling. Kids who graduate high school during the Great Recession who are old enough to remember what they were promised; they inherit a pale shadow of that, tight budgets and menial jobs.