Newt Gingrich Leaves GOP Race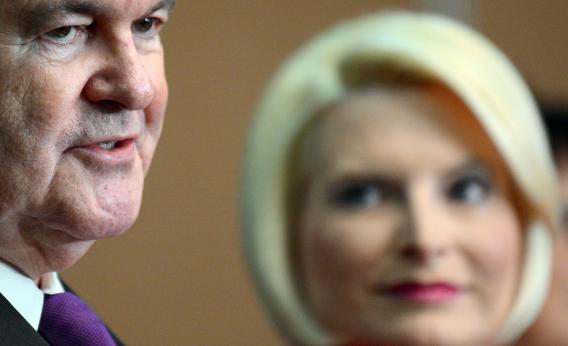 And then there were two … assuming we count Ron Paul.
Newt Gingrich, the former House speaker, moon-colony imaginer, and media-gossip policeman, is finally bowing out of the battle for the GOP nomination and the race for president in 2012.
Gingrich announced his departure from the race in comments delivered in Arlington, Va., saying:
"Today I am suspending the campaign, but suspending the campaign does not mean suspending citizenship."
Gingrich promised to push many of his initiatives further after stepping out, from welfare reform to, yes, space exploration. Like many of his fellow contenders, Gingrich enjoyed a period atop the polls that had many wondering in November and December of 2011 if the former house speaker would be President Obama's most significant conservative challenger.
But stories about Gingrich's troubled marriage history, debts to Tiffany and Co. and private jet contractor Moby Dick Airways undermined the Candidate's credibility. So did a mountain of money from the Romney campaign that proved insurmountable for Gingrich in important primary contests. Will he support Romney in November?
I'm asked sometimes, is Mitt Romney conservative enough?" Said Gingrich. "And my answer is, compared to Barack Obama?"
Not the most ringing endorsement ever, but maybe he can get a cabinet job … as ambassador to the moon.
Video produced by Paca Thomas.