Vladimir Putin Ramps Up His Postmodern Non-Invasion Invasion of Ukraine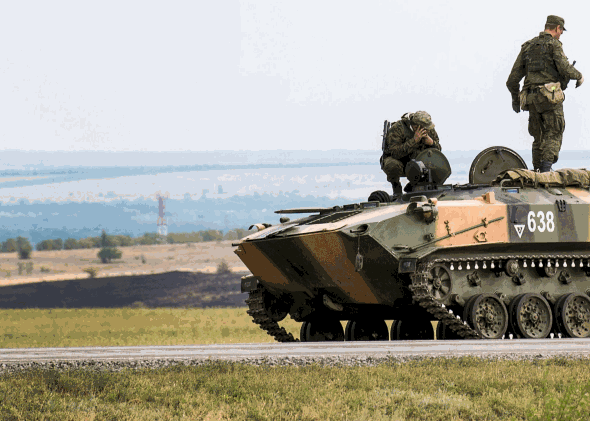 The Russian government and the pro-Russian rebels in Eastern Ukraine used to deny that they were cooperating. All that advanced weaponry, including tanks and anti-aircraft systems, were simply captured from Ukrainian government forces, the explanations went. The Russians fighting with the rebels were simply private citizens and the Russian government had no control over them.
In the last few days, however, we've seen an escalation in both Russia's military involvement in Eastern Ukraine and the creativity of the explanations for this involvement. You see, the thousands of current Russian soldiers fighting in Ukraine aren't an invading army—they're just on vacation. Here's the New York Times:
[T]he leader of the main separatist group in southeastern Ukraine said that up to 4,000 Russians, including active-duty soldiers currently on leave, had been fighting against Ukrainian government forces, Russian television reported.
"There are active soldiers fighting among us who preferred to spend their vacation not on the beach, but with us, among their brothers, who are fighting for their freedom," Aleksandr Zakharchenko, a rebel commander and the prime minister of the self-declared Donetsk People's Republic, said in an interview on Russian state-run television.
You can see satellite imagery of what NATO says are Russian military convoys here, as well as video here. The Russian government continues to deny that Russian forces are crossing the border or that the government is arming the rebels. One can only imagine what creative explanations they'll come up with next.
Just a few weeks ago, in the wake of the MH17 crash, the conflict seemed on the verge of being snuffed out with Ukrainian forces rapidly regaining rebel-held territory. Now, even as Ukrainian forces close in on the rebel strongholds of Donetsk and Luhanks, Russian troops appear to have opened a new front of the battle along the southeastern portion of the border.
Incredibly, this has been done in such a way that President Vladimir Putin can continue denying that Russia is playing a direct military role in the conflict while holding talks this week with Ukrainian President Poro Petroshenko.
For now, my prediction made in the wake of the MH17 crash still holds. Russia's government will continue to supply the rebels with enough help to keep the conflict going, prevent Ukraine's new government from asserting control over the country's territory, deny that it's doing anything of the sort, and—at least publicly—continue to push for a negotiated solution to the conflict as if it's not doing anything to prolong it.
This strange postmodern war, in which the two sides are operating not only from different points of view but from entirely different versions of reality, isn't ending any time soon.