Forget Messi. Argentina's New Favorite Player Is Heartthrob Prankster Ezequiel Lavezzi.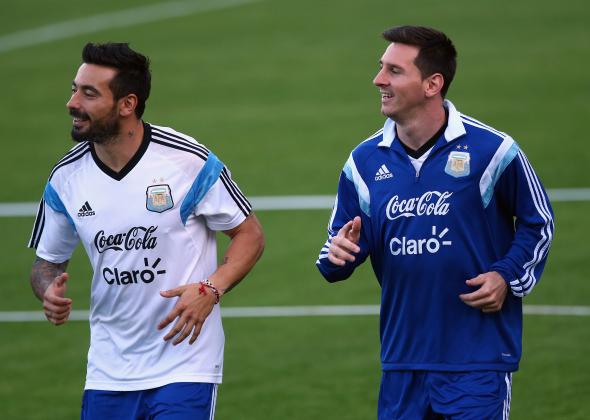 When Argentina faces off against Switzerland in São Paulo it will mark the first time in recent memory that Lionel Messi will be competing for attention. Sure, Messi has been Argentina's indisputable star of this World Cup, scoring four of the team's six goals. But in the last match of the group phase, a new star was born. And Argentines are still swooning.
It all began in the match against Nigeria, when Sergio Agüero, one of the much-hyped "fantastic four" strikers, was forced off the field due to injury. That's when the camera focused on a shirtless Ezequiel "Pocho" Lavezzi getting some last-minute pointers from coach Alejandro Sabella.
The 29-year-old Paris Saint-Germain attacker wasn't exactly an unknown quantity to soccer fans. But for the millions of casual viewers who only tune in for the World Cup, that brief glimpse at his tattooed, muscle-bound body and perfectly coiffed beard was enough to set social media atwitter. Lavezzi fever had begun.
It wasn't just about the chiseled physique. In the 71st minute, Lavezzi went to the sidelines for some water and was immediately approached by a frenetic Sabella. Lavezzi barely looked at the coach, and with a small smirk squeezed his water bottle, squirting Sabella on the face with a stream of water. Sabella flinched and just kept talking. The result was captured in a Vine-perfect video that set Argentina ablaze.
Was it insubordination? A sign that the Argentine players are unhappy with their coach? Hardly. "I saw he was too nervous and I had to decompress the situation," he told a journalist after the game. When he was asked whether the coach would criticize him for the brief soaking, Lavezzi laughed: "I don't think so, he's used to it." The man has a sense of humor, too? In an instant, a sex symbol was born, and #quehariasconlavezzi (#whatwouldyoudowithlavezzi) became a trending topic on Twitter.
Unlike Messi, who (understandably) often looks like he's carrying the weight of the world, Lavezzi seems to prioritize having fun, even if it's at someone else's expense. Earlier in the World Cup, Lavezzi posted a video to his Instagram account showing how he woke up the team's masseur by repeatedly slapping him. The masseur was more than a bit peeved, but Lavezzi couldn't stop cracking up.
Last year, Lavezzi celebrated a Zlatan Ibrahimovic penalty by squeezing his teammate's famously large nose. Again, the target of the prank didn't seem too happy, but Lavezzi was having a ball.
He also played a schoolboy prank on an unsuspecting cameraman, kneeling in his path to trip him.
Lest you think he has no heart, Lavezzi later apologized and handed one of his shirts to the cameraman, who didn't seem to hold much ill will.
Still not in love with Lavezzi? How about the time he went with his teammates to meet the pope and took a seat on the papal throne? Some cried breach of protocol, but Francis didn't seem to mind. "That's my people!" the pope said.
If he's not scared about angering the pope, you can be sure he had no qualms about ruffling French Football League President Frédéric Thiriez's hair. Then, when he couldn't quite muster up the French skills to answer a question, he grabbed the microphone and let out a loud expletive as he cracked himself up.
Of course, all that good humor would not mean that much without the abs, square jaw, and charming smile. A Facebook page that opened shortly after the Nigeria game to "campaign for Pocho Lavezzi to play without a shirt" has already garnered more than 360,000 likes. There has been so much talk about Lavezzi's ripped body—entire television segments have been dedicated to his physique—that other members of the team are joining in on the fun. When a journalist asked about "the female devotion" to Lavezzi, midfielder Maxi Rodríguez joked, "We have him naked 24 hours a day—like the girls want him." Assistant coach Claudio Gugnali also put in his two cents: "Pocho is very pretty. … You miss out on seeing him in the shower every day, but we're watching."
All this devotion has amounted to quite a role reversal for a country in which women are objectified on prime-time television nightly. All of a sudden, it was men who found themselves complaining, grousing about a double standard and posting pictures of Lavezzi's younger self, when he was decidedly less smoking. And, naturally, long essays have been written about whether women should feel bad about objectifying a football player who seems to be having the time of his life. (No worries—Slate's Amanda Hess has already given the all clear to ogle at World Cup players.)
Along with igniting a certain, well, passion for the game in some quarters, Lavezzi has added a needed bit of levity to a World Cup that, in typical Argentine fashion, has been filled with hand-wringing and nail-biting. Assuming he'll continue to fill in for Agüero as everyone expects, Lavezzi now has to prove he can get as much attention for his play on the field as for his chiseled pecs.