How Impressive Is It That a Paraplegic in a Robotic Suit Took the World Cup's First Kick?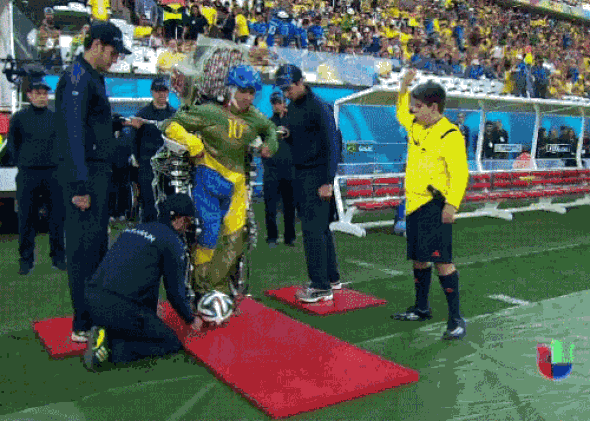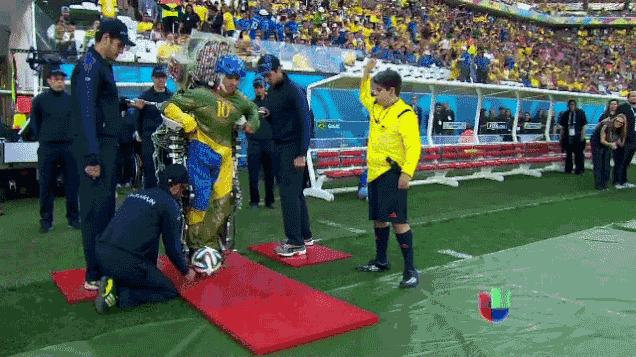 All but lost in the hoopla surrounding the start of the 2014 World Cup was a moment that techies had been anticipating for years: A paraplegic man took the first kick by controlling a robotic leg with his mind.
Somehow, the achievement was both inspiring and a little disappointing.
The kick was taken by 29-year-old Juliano Pinto, a Brazilian man who is paralyzed from the waist down. As you can see in the GIF above, courtesy of Deadspin, he succeeded in knocking the ball forward with a robotic leg, which must have been a thrilling sight for paralyzed people around the world.
Robotic exoskeletons are nothing new. Last year, I watched a paralyzed man walk all around a New York hospital in one, controlling the skeleton by pushing various buttons. Pinto's robotic suit, however, had no buttons: He commanded it with his brain waves alone.
It sounds incredible when you put it that way. Mind control—zounds!
Yet it's unclear just how much control his mind really exerted on the robotic leg. The state of the art in brain-computer interfaces involves implanting electrodes in the patient's brain. But in an incisive interview with the Brazilian scientist who organized the demonstration, Scientific American's Dina Fine Maron points out that Pinto was fitted only with an external electroencephalography (EEG) headset. "The implantable technology is not ready," Nicolelis explained.
While less invasive, EEG devices can typically detect only the crudest signals emanating from the subject's brain. These signals can sometimes be overshadowed by interference from the subject's muscle or eye movements. Even in the best case, the signals coming from an EEG headset-wearer's brain often amount to little more than "go" and "stop."
That helps to explain why the kick itself looked a little underwhelming—especially when you compare it to the spectacle that Nicolelis had initially promised. When I first wrote about his plans in August 2012, the idea was that a paraplegic would walk out onto the field to make the kick—and then boot the ball into the goal. Needless to say, we're not quite there yet.
In some ways the World Cup kick reminds me of another widely publicized "mind control" demonstration, in which one University of Washington professor used his brain waves (i.e., an EEG headset) to control another professor's finger. As I explained at the time, the "control" amounted to no more than a single burst of stimulation. It's less like Avatar and more like those devices that let you turn the lights on in a room by clapping your hands.
None of this is to impugn Pinto or Nicolelis and his team. What they achieved is impressive in its own right, and could lead to great advances in the years to come. It just wasn't quite the miracle that Nicolelis had led people to hope for.