Michael Bradley Wanted a Shot With Arsenal. Should the Club Have Given Him a Deal?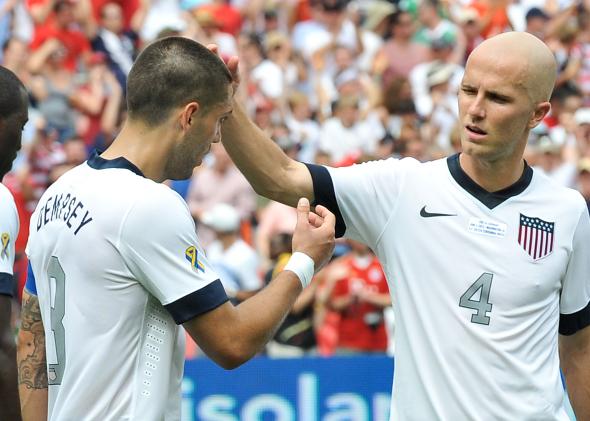 Michael Bradley is the United States' best field player, and his performance at the World Cup could largely determine the Americans' chances of advancing. But despite his impressive play for the U.S. national team during the past four years, the 26-year-old Toronto F.C. midfielder feels like American players are not getting the respect they deserve from Europe's biggest clubs. Bradley felt particularly spurned by one of those clubs during last January's transfer window, when he eventually moved from Italy's A.S. Roma to MLS side Toronto.
This is according to Bradley's father, former U.S. men's national team coach Bob Bradley, who made this revelation in an interview with Slate's Hang Up and Listen podcast. Though the Hang Up and Listen interview largely focused on Bob Bradley's tenure as the coach of Egypt's national team, he also talked about his son's career. Here, in an exclusive clip for readers of The Spot, the coach says that Michael had hoped to join a prominent European club and felt like Arsenal would have been a good fit. Michael, though, didn't get the consideration from manager Arsène Wenger that he felt he merited.
"I think American players and coaches have to fight really hard for respect," Bob Bradley said. "In January, Arsenal [was] looking to add a midfielder, and they chose Kim Källström. Kim Källström's not a bad player, but I think Michael feels pretty strongly that he's better, and so Arsène Wenger must not feel that way, and [Arsenal chief executive] Ivan Gazidis must not feel that way. So sometimes, no matter what you do, you don't get the respect you think you deserve."
Bob Bradley has an argument that his son would have been a better fit for Arsenal than the Swedish midfielder. At 26, Bradley is arguably at the peak of his career, while the 31-year-old Källström is far closer to the end of his. Last season, Bradley had one goal and four assists in 11 starts for the U.S. national team and successfully led the team to qualify for the World Cup. Källström had 10 appearances and eight starts for a Swedish team that failed to qualify, scoring no goals and chalking up three assists. For Arsenal, Källström played in just three games, two as a sub.
In the end, Bradley came back to North America, signing with Toronto of MLS. Earlier this year, U.S. coach Jürgen Klinsmann issued a not-so-veiled critique of America's biggest stars, namely Bradley, Landon Donovan, and Seattle's Clint Dempsey, for not believing in their own abilities enough to push for spots in Europe. But Michael Bradley emphatically rejected that assertion at the time, saying it was a matter of opportunity and not belief.
"There's no doubt that, as Americans, we continue to have to fight for respect and we have to continue to show that we have players who can play at the highest level," Michael Bradley told ESPN. "You would have hoped that now what's gone on, whether it's in Major League Soccer or the national team or with certain individuals over the past 10, 15, 20 years would have done more for us, but the reality is that at the moment there's still a little bit of a feeling that if you can have an American or an Argentine, they're taking an Argentine."
Donovan, who had a short and uneventful stint at German superteam Bayern Munich when Klinsmann was coach there in 2009, echoed Michael Bradley's sentiment that American players have a harder time getting chances overseas. "When I was at [Bayer] Leverkusen in the beginning, when you're a young kid there, you're one of 50 or 100 young kids that they're hoping pans out," Donovan told Sports Illustrated. "And guess what? If it's time to play for the reserve team or the first team and you're at this level and another German player is at [the same] level, the German player is getting the chance. ... I'm not saying that's an excuse as to why we haven't had more players play in Champions League, but that's definitely part of it."
The United States doesn't have a shortage of talent playing in the top divisions in Europe. Twelve men in the 23-man roster play on European teams, and Dempsey and Bradley were playing in England and Italy respectively before deciding to return to America. But none play regularly for top, Champions League–caliber sides. If what Donovan, Bradley, and Bradley's father are saying is true, then it's not that the American players don't belong in the Champions League. It's that they are denied opportunities because of their nationality.
It's tough to verify that claim. The sample size of U.S. players who maybe should be given chances at the top international clubs is very small, a list that arguably includes Bradley, U.S. captain Dempsey, and maybe Everton goalkeeper Tim Howard and Aston Villa goalkeeper Brad Guzan. To really determine whether Americans are getting a fair chance, then there need to be more great American soccer players. Which is kind of the point, isn't it?