The Incredible Erasable Notebook
All the clever note-taking and sketching apps in the world have not yet managed to eradicate the tactile desire to pick up a pen and scribble thoughts or drawings in an old-fashioned notebook.
But notebooks waste paper, pile up, are often discarded once their use as memory aids has been fulfilled. Pencils are an age-old solution to this dilemma, but not for those who like to brainstorm in color and find erasing pencil marks a messy chore.

Last February, a group of MBA students at the University of Ottawa turned a class assignment into an ingenious invention by creating a notebook that allows you to jot down fleeting ideas and sketches in multicolored ink to your heart's content, then erase them once you're done.
The Wipebook is a bound notebook that converts the whiteboard experience of having a sleek surface on which to brainstorm into a portable bound notebook you can take with you wherever you go. Unlike other silicone-based erasable notepads, this one looks and acts like a notebook, but it's made of reusable, easy-to-wipe-clean whiteboard instead.
After making a prototype, the team produced an original Wipebook as a proof of concept. Using feedback from that initial run, they developed an improved 2.0 model. To fund production, they launched a Kickstarter campaign, hoping to lock in 4,000 Canadian dollars worth of pre-orders. The effort has already wildly surpassed its goal, garnering more than 200,000 Canadian dollars and counting with less than a week left to go.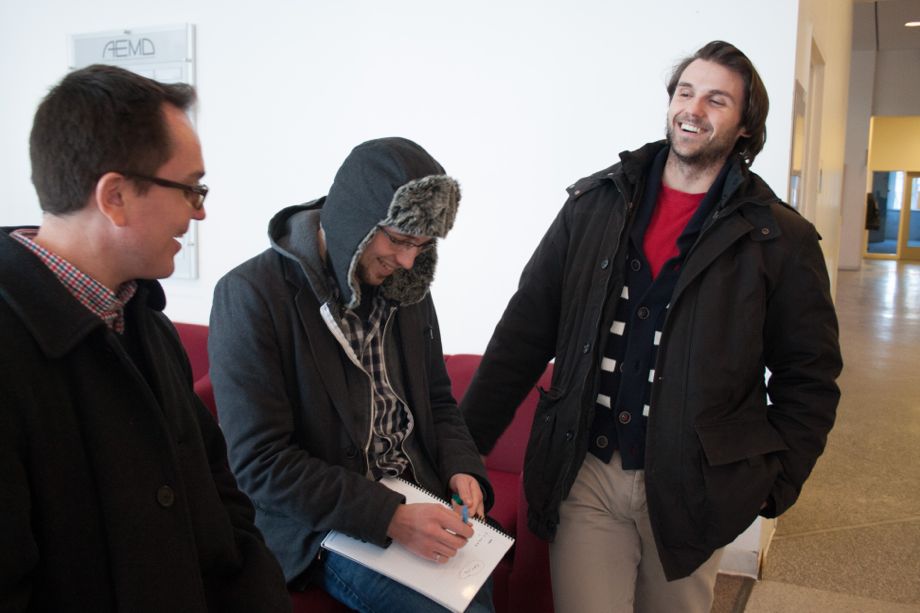 With Wipebook 2.0, the founders claim, they have corrected the problem of "ghosting," in which erased pages still showed traces of what had been wiped out. The slightly rough plastic laminate surface of the original has been corrected; a new gloss on pages cures to a smooth surface. The Wipebook team claims their new version is more pleasurable to work on, more eco-friendly and works with dry erase or correctable markers.
The Wipebook is 8.5x11 inches, has 25 double-sided pages, and can be unbound for those wanting to scan pages. Variations include blank, lined, or grid pages, and there are plans to introduce a Mini-Wipebook at the end of January due to popular demand.
The company founders are making the pitch that the Wipebook just might be the last notebook you will ever need. Of course it remains to be seen how long these books will hold up with repeated use and wear and tear, but it's a clever classic notebook design update for scribblers and doodlers who aren't quite ready to give up the feeling of a pen-and-paper experience just yet.
Check out this video for a demonstration of how Wipebook works: