Why New York City Is Experimenting With New Ways to Desegregate Public Schools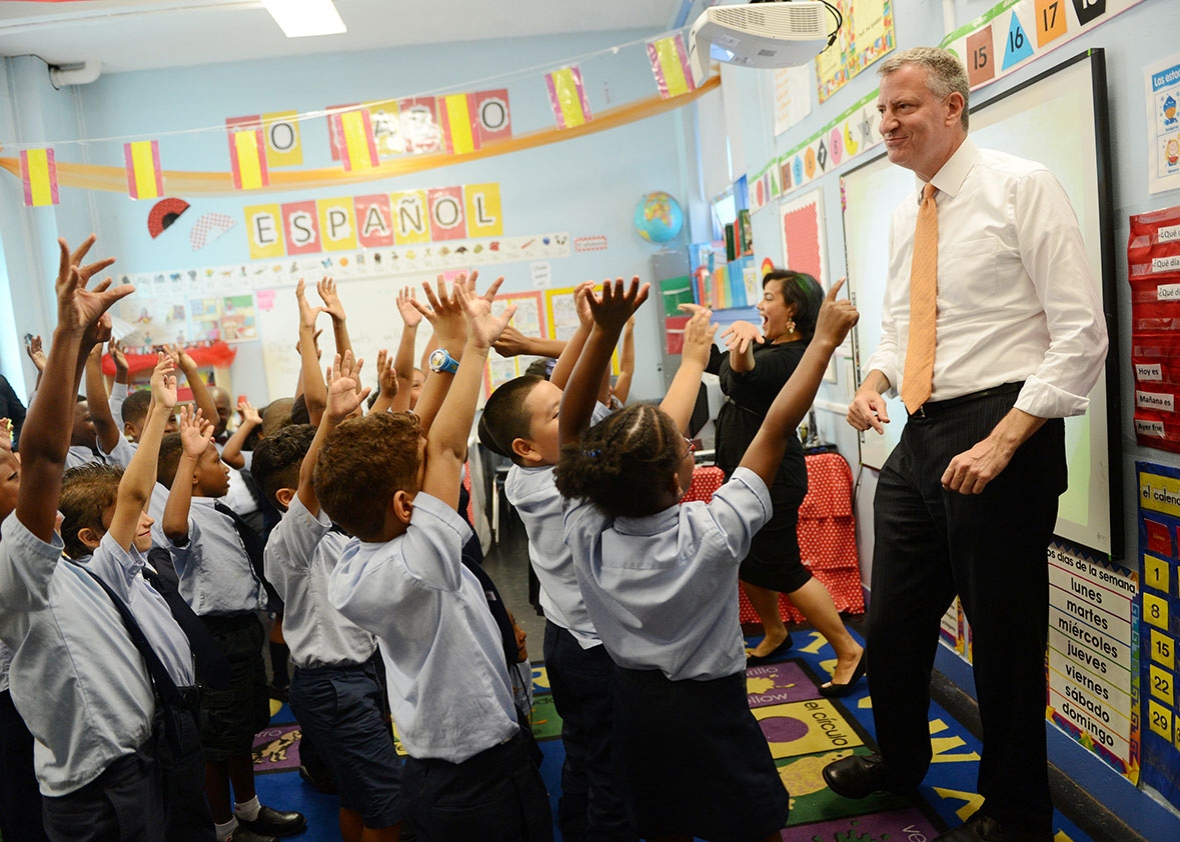 Yani Lopez, of Harlem, wanted her daughter Kiami to go to a good kindergarten—one with art classes, foreign languages, and a diverse student body. Instead, Kiami was assigned last year to a neighborhood school with limited resources, no art classes, and a student body that was almost exclusively black and Hispanic. This assignment was all but destiny: A study published last year by UCLA researchers spotlighted the state of New York's schools as the most segregated in the nation, largely due to race and class separation within New York City's public schools.
Advocates of school integration say the tide is starting to change in the country's largest school district—a reflection of growing demand across the country from families eager for more heterogeneous schools and city leaders, including Mayor Bill de Blasio and School Chancellor Carmen Fariña, more open to a new desegregation policy. But in New York and elsewhere, most of the recent momentum has come from grassroots groups seeking small-scale changes to the school assignment process that allow districts to create more diverse schools one by one. As such, the city could be an important test case for whether meaningful school integration can be achieved through localized initiatives rather than a citywide shift in policy.
The city has taken one broad, if mostly symbolic, step. In May, the City Council passed the School Diversity Accountability Act, which de Blasio signed into law in June and called "a step further in our efforts to ensure that our schools are as diverse as our city and people of all communities live, learn, and work together." The new law requires the city Department of Education to provide detailed demographic data on schools and identify the steps it plans to improve diversity within schools. It also requires the education department to adopt a policy that considers diversity in its school assignment process, though the law doesn't specify any steps and the city hasn't yet adopted any.
One of the bill's main sponsors, Council Member Brad Lander of Brooklyn, says that while this new legislation won't immediately desegregate schools, it's an important first measure. He says now is a good moment to explore new desegregation options, citing openness from de Blasio and Fariña, to more progressive education policies. A spokesman for the Department of Education said the city acknowledges that students learn better in diverse classrooms and that officials "look forward to engaging with partners at these schools and across the community on our efforts to have our schools reflect the city's great diversity." That statement, vague and guarded as it may be, is more of an opening than would have seemed possible during the 12-year mayoralty of Michael Bloomberg, whose administration pushed market-based school choice even as that system fueled further segregation within public schools. "The prior administration did not see this as a priority," Lander says bluntly.
Even making a written commitment to school diversity is unusual, according to Amy Stuart Wells, a Teachers College professor who studies urban schools. The move aligns with a broader societal shift happening in large U.S. cities like New York and San Francisco. For the first time in a nearly century, there's a significant migration of whites and wealthy Americans back into urban areas, undoing the effects of suburbanization and white flight that reshaped cities like New York over the course of the 20th century. Wells said this new generation of parents is placing a higher value on living in multicultural communities and sending their children to diverse schools than previous generations did.
"But that's harder to do than just thinking it," Wells said, saying that a new influx of wealthy, white families can lead to gentrification and further segregation if policy isn't in place to support the development of diverse schools.
But the new policy doesn't do much beyond establish support for diverse schools in principle. That's where city officials are hoping that a flurry of new, community-driven efforts will come into play. "Hopefully you come up with some experiments that are worth trying at a larger scale," Lander says.
Those experiments include a model in place right now at P.S. 133 in Brooklyn's Park Slope neighborhood, a 3-year-old school that accepts students from two Brooklyn districts, placing a priority on students still learning English or who are eligible for federal lunch benefits. Thirty-five percent of the school's seats are reserved for these students, an effort to address increased housing segregation in the area. Several other public schools, including the Brooklyn Children's School and the Academy of Arts and Letters in Fort Greene are looking to adopt this model.
Advocates are also working to redraw district lines to eliminate the divide between rich and poor neighborhoods, like East Harlem and the Upper East Side. And a small but growing number of charter school operators are opening schools that are "diverse by design": created to reflect the diversity of the surrounding community and given special exemptions from standard school enrollment practices in order to do.
Nearly all of these experiments challenge the city's existing assignment system for nonselective public schools, which is based on a combination of family preference and geography. But choice alone hasn't helped poor families of color: As long as that system has been in place, segregation has increased, according to the UCLA study. So advocates in three parts of the city—the Lower East Side; the Upper West Side, Morningside Heights, and West Harlem; and Fort Greene, Brooklyn Heights, and Clinton Hill—are trying to introduce a new system called controlled choice. It's one where parents can still assert their preferences, but the district administration ensures that each school's enrollment reflects the community's diversity.
Controlled choice was first used in Cambridge, Massachusetts, in 1981, a way to pre-empt the rampant violence, unrest, and white flight that had happened throughout the 1970s across the Charles River in Boston.
The system was developed by Michael Alves, an educational planner who worked for Massachusetts' statewide desegregation office in the 1970s and was tasked with creating a plan that could desegregate schools in Cambridge, which were nearly as segregated as Boston's, without forced busing. After a few false starts, officials settled on what's now called "the Cambridge plan": Every school had to enroll students at a rate that matched the racial demographics for the entire city. But parents still had a say in what schools they would send their children to, and schools with low demand were given money to develop new initiatives, like Montessori programs, to drum up enrollment.
Within a few years, diversity within schools started to stabilize. And even more important, the system didn't lead to the kind of white flight that happened when cities like Boston used forced busing to desegregate schools. (In fact, the number of white students started to increase, as more families opted to enroll their children in the increasingly diverse public school system over abundant private or parochial options.)
"It became very clear that this model certainly would have transfer value elsewhere in Massachusetts and around the country," says Alves, who today runs a consulting company that helps school districts develop and manage their own controlled choice systems. "So as the years rolled on, what we began in Cambridge certainly began to be replicated throughout the United States."
The system, in a sense, merges market-based choice and forced school desegregation, both systems without stellar track records. But this policy amalgam has proved to be a successful desegregation tool in dozens of cities across the country, including Montclair, New Jersey; Berkeley and San Francisco, California; and even Boston. It's still used in Cambridge, where about a third of students in every school come from low-income families. (Most districts now consider family income rather than race in assignments, the result of 2007 Supreme Court prohibitions on most uses of that practice.)
Right now, a policy like controlled choice is still a pipe dream for advocates. But the District 1 Community Education Council held a series of community meetings, each attended by Michael Alves, this year to gather input on what controlled choice could look like in their district, a first step toward developing a proposal to submit to the city. And groups of advocates have formed the District 3 Equity in Education Task Force, which drafted a document calling for controlled choice. (It hasn't yet been formally considered by the district's education leaders.)
Lisa Donlan, president of District 1's Community Education Council, said the city's commitment to collect data shows newfound investment in the issue. "When we decide to count something we are saying it's important," she said, though she's skeptical that data collection and small-scale experiments alone will be able to turn into a citywide shift in school assignment policy. And any policy move could still be thwarted by parents themselves, unwilling to cede access to some of the city's top schools to students from other neighborhoods or backgrounds.
So for the time being, parents like Lopez are still left pretty much to their own devices. With the help of a local parent group, and a lot of hustle, Lopez ultimately got her daughter into a dual-language program at a high-performing school on the Upper West Side, where families are more likely to be white and wealthy. While Lopez was able to navigate the city's often-Byzantine admissions process, she knows plenty of families wouldn't be able to, either because of limited English skills, strict work schedules, or simply the feeling that they are unwelcome when they try to visit a wealthier, whiter school.
"It really is alienating for families that have no idea what is going on," Lopez says.
This story was produced with support from Renaissance Journalism's Opportunity Gap initiative.