Cereal Is the Most Normal Thing You Can Eat. But Do You Eat It Correctly?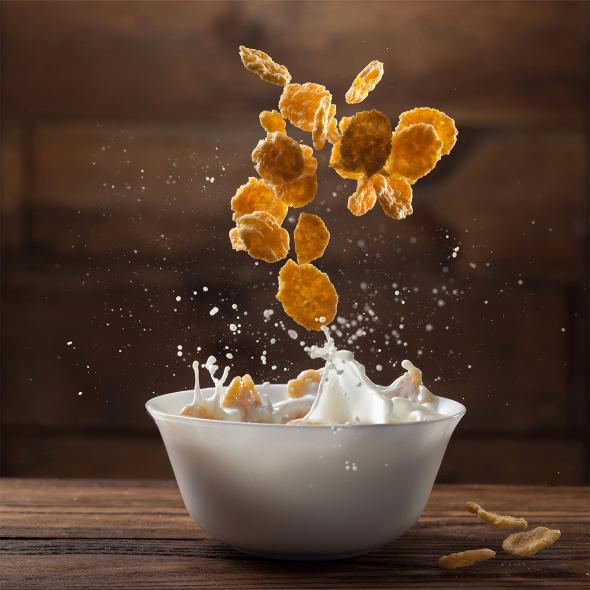 If it is a normal morning, I probably had cereal for breakfast. That's been true my entire life. Growing up with two working parents, cereal was standard on school days because it was easy. We could make it ourselves, and there was no risk of accidentally leaving the toaster or kettle on. On snow days, my mom, a teacher, would stay home and cook up a big pot of Cream of Wheat; and after Easter, breakfast was leftover brightly dyed hard-boiled eggs. But these were special occasions. On every other normal (nonweekend) morning, it was cereal.
As an adult, I still eat cereal in the mornings before work, in my bathrobe while my hair is drying as I skim the news and pack myself something for lunch. If that scene sounds super normal, you are not paying attention to how I am eating the cereal. My way is the correct way, yet I have observed others acting in error. But don't worry, we'll make it normal soon enough.
Here's what I do: I start with a very small pour of cereal. Then I add a large quantity of milk. Certainly too much milk for said amount of cereal. The cereal floats up, I eat it, and then I refill the bowl with equally small portions of cereal, about four to seven times, depending on how hungry I am. And then I drink the milk.
If I am adding strawberries or blueberries to my cereal (definite yes, if they're available), those go in first, at the bottom, because I try to add the proper amount for the entire cereal-eating experience, not just the initial bowl. Strawberries and blueberries don't get soggy. They can hang out in the milk for the duration.
Most people think "crispy" is the ideal texture for cereal. I know because I surveyed my colleagues, and 73.8 percent of them agreed. (Nineteen percent admitted they eat too fast for it to matter, and 7.1 percent apparently prefer cereal soggy. Those people are not normal!) Yet the current normal way to eat cereal—throw a bunch in a bowl and eat your way through—means most people eat most cereal in suboptimal form, the later bites becoming soggier with each passing minute. We should not accept this way of life. It is obvious that we must normalize the pour-in-small-amounts method.
Another good thing about this method is that it makes drinking the milk at the end of the bowl more pleasant. That's because the milk is way more drinkable and less likely to contain chunks of soggy cereal. To answer an obvious question, drinking the milk at the end is, in fact, normal—60.5 percent of my colleagues agree. When consumed correctly, cereal makes milk better. As one astute colleague put it when qualifying why Cinnamon Toast Crunch was his favorite kind of cereal: "First you enjoy the cereal, then you enjoy the cinnamon-flavored milk." Two others said they only drink the milk when it's chocolate-y. And if you follow my strategy, you end up with perfectly flavored cereal milk—not too intense, but definitely yummier than normal milk.
It's a win-win. Also, this method really helps to limit the amount of soggy cereal that gets left in the bowl, which makes the dish easier to wash in the end. Making the dish easier to wash could actually help staunch cereal's decline (sales have dipped by about 30 percent in the past 15 years). Apparently, according to one survey, almost 40 percent of millennials complain that cereal is not convenient because it still leaves behind a dish to clean. This is a very #millennial complaint and one that Slate staffers clearly don't share—81.4 percent thought cereal was a low-key breakfast option, with 25.6 percent naming it THE most low-key breakfast food you can eat. Half of my survey respondents identified as millennials, and I suppose it's possible that all 18.6 percent of people who don't think cereal is low-key are millennials, but frankly, I didn't bother to check. That's because it's normal to resent cleaning dishes at any age.