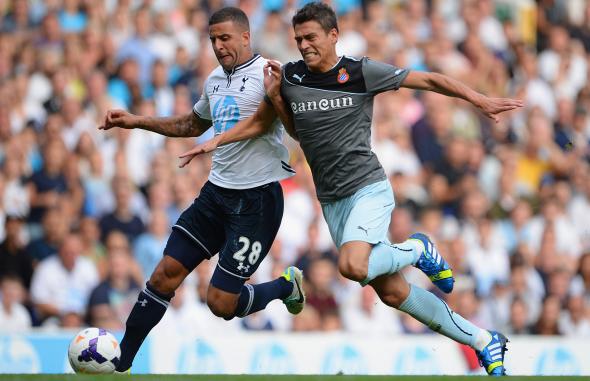 On the Sep. 23 edition of the Hang Up and Listen podcast, Stefan Fatsis explained how the anti-Semitic slur "Yid" has come to be embraced by an English Premier League soccer team. An adapted transcript of the audio recording is below, or you can listen to the story by clicking on the audio player beneath this paragraph.
If you think the domestic dust-up over the name of the Washington American-football team has been intense, consider a debate that has flared anew in England involving supporters of the Premier League soccer club Tottenham Hotspur: Do Tottenham fans have the moral or legal right to brand themselves the "Yid Army"—and does that encourage supporters of rival teams to reply with anti-Semitic chants of their own?
This isn't a new question. Tottenham supporters have been calling themselves and the team's players "yids" and "yiddos" for half a century or more, and "Yid Army" has been around since the early 1980s. The explanation—or justification, if you prefer—is that the team's stadium, White Hart Lane, is located in a London neighborhood that from the 1930s through the '60s was home to a large Jewish population, and today is the center of the city's Hasidic Jewish population. To deflect anti-Semitic taunts from opposing clubs, Tottenham players and fans, Jewish or not—and most, obviously, are not—adopted the Jewish identity as their own.
In an article in Sunday's Daily Mail, Jimmy Greaves, a Tottenham star in the 1960s, recalled fondly how he and his teammates were dubbed "Yiddle." "I played at White Hart Lane alongside names that tripped off the tongue," Greaves said. "Yiddle Perryman, Yiddle Mackay from Scotland, Yiddle Jones from Rhonda Valley and Yiddle Jennings from Ireland."
"Greavesie" said he is willing to be arrested for shouting "yid" and "yiddo" at the stadium. Earlier this month, England's governing Football Association decreed that fans who chant and shout the slur—and let's be clear, yid or Yid is an offensive term for Jew, the origin of which dates to 1874—can be prosecuted under anti-racism laws. That sparked a round of media back-and-forth over whether Spurs fans, who say they have reclaimed the word and adopted it as a "badge of honour," were being unfairly targeted—after all, fans of the other teams are the ones shouting the really vile stuff.
"Personally, I don't find the word offensive," Darren Alexander, co-chairman of a Tottenham supporters group, told the website Football 365. "When Spurs fans use it, it's very much in the positive sense. I've felt quite empowered when I've stood there with 3,000 Spurs fans in an away stand and it's being sung or shouted. In that moment people of different colors and religions and from different backgrounds come together, and I've always found that very empowering."
Prime Minister David Cameron belly-flopped into the debate last week when he told the London-based Jewish Chronicle that "there's a difference between Spurs fans self-describing themselves as yids and someone calling someone a yid as an insult. You have to be motivated by hate. Hate speech should be prosecuted—but only when it's motivated by hate."
I wonder how Cameron would feel if supporters of a club decided to "self-describe" themselves by some other ethnic, racial, or religious slur. "We're not motivated by hate" is a pretty lame excuse for propagating racial and ethnic slurs and stereotypes, but that's exactly what Cameron and the club are employing. Defenders of the Washington football team's name—and of the "tomahawk chop" performed by Atlanta Braves fans and of the Cleveland Indians' caricature logo Chief Wahoo, both of which we might see in baseball's playoffs—use the same flawed logic, plus the equally flawed "honoring the people" meme. But the appropriation of a term that in modern society is overwhelmingly considered derogatory is, no matter your justification, unacceptable. (And I'll point out for those who might be wondering that yid is on Scrabble's so-called Poo List of words labeled offensive and barred from home and school play.)
In 2011, an English comedian named David Baddiel made a two-minute film called "The Y-Word" for the group Kick Racism Out of Football. In it, and in a piece in the Guardian last week, Baddiel challenged the notion that yid is a harmless appellation adopted lovingly by Tottenham supporters:
For those who didn't click, here are the words to an actual chant shown in the video: "The yids from White Hart Lane/ Spurs are on their way to Auschwitz/ Sieg Heil/ Hitler's gonna gas 'em again." In his 2004 book How Soccer Explains the World, Franklin Foer notes another charming chant composed by Chelsea fans: "Gas a Jew, Jew, Jew/ Put him in the oven/ Cook him through." Some fans of West Ham just last season directed anti-Semitic chants at Tottenham supporters and made hissing sounds, a reference to Jews being taken to concentration camp gas chambers. (West Ham fans were warned over the weekend not to repeat the behavior when the team visits White Hart Lane on Oct. 6.)
Foer notes that Tottenham's Jewish identity was fully embraced in the 1980s, when hooligan elements of the Spurs fan base, many of whom had ties to the far right, coined "Yid Army" and adopted the Israeli flag as a symbol. When now–United States national team coach Jürgen Klinsmann joined Tottenham as a player in 1994, fans serenaded him with, "Chim chiminey, chim chiminey, chim chim cheroo/ Jürgen was a German, but now he's a Jew."
Tottenham's defense is two-fold. One, our fans mean no harm. And two, "They started it," they being fans of other teams. Yes, they may have started it, and then Spurs fans responded in a way that actual Jews may or may not find offensive, and that encouraged more bile and hatred, in effect giving anti-Semitism the cover of football fandom. As Foer writes, the adoption of Jewish identity by Tottenham, as well as by Ajax in the Dutch league, marginalizes rather than celebrates Jews in Europe. It confirms that "the Jews are foreigners, not like themselves. [Europeans] still treat Jews as bizarre curiosities, reducing them to alien symbols—yarmulkes, sideburns, a Star of David."
In an act of true cowardice, Tottenham announced that it would send a questionnaire to season-ticket holders about the club's continued identification with yid. Two Saturdays ago, as this was developing, fans responded: They performed their "Yid Army" chant, they sang "We're Tottenham Hotspur, we'll sing what we want," and they greeted a new player, Christian Eriksen of Denmark, with chants of "'Yiddo." On Saturday, at an away game against Cardiff City, Spurs fans used the word yid from the time they got off the train until the time the game ended. "Barely five minutes passed between chants," the Mirror reported.
Next Saturday, Tottenham hosts London rival Chelsea. Let's hope that NBC Sports, the Premier League's new American television partner, has some microphones in the stands.