Fun With Decoding Misleading Food Labels
This is a 14-ounce container of Tropicana Ruby Red Grapefruit Juice. It's not big; it's a size you might get to-go, and it would be quite easy to drink the whole thing. Oh look, the picture suggests it's just like sticking a straw right into the fruit and drinking it.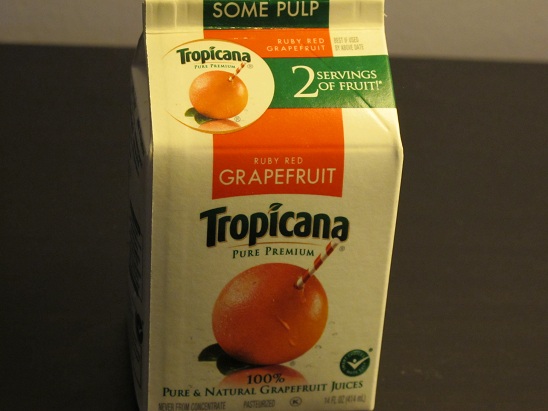 You can see pretty clearly at the top in large print it reads, 2 SERVINGS OF FRUIT!*, with an asterisk. So you might naturally assume that this carton contains two servings of fruit. Seems reasonable.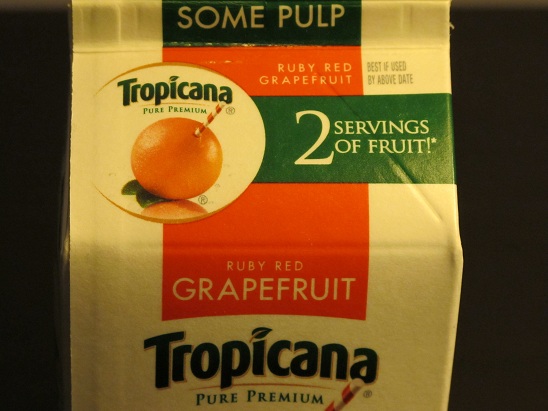 If you turn to the nutrition information on the side panel, you see that it says this entire 14-ounce container is one serving. It's almost as if they want you to think of it as only one serving. OK, so maybe one serving of juice is equivalent to two servings of fruit according to some specific guidelines or diet plan or something. Makes sense. Let's see if we can find where that asterisk leads to. Nope, not on this side.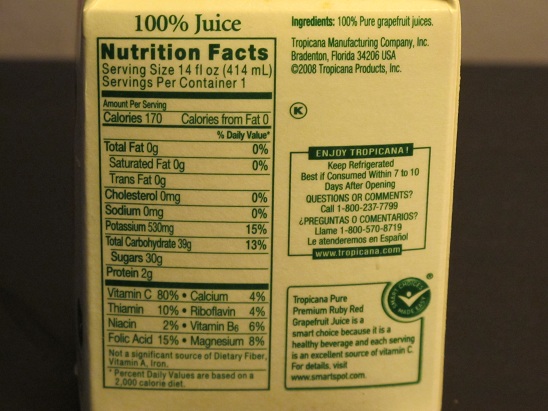 Oh, here it is, way down at the bottom below the bar code in tiny print.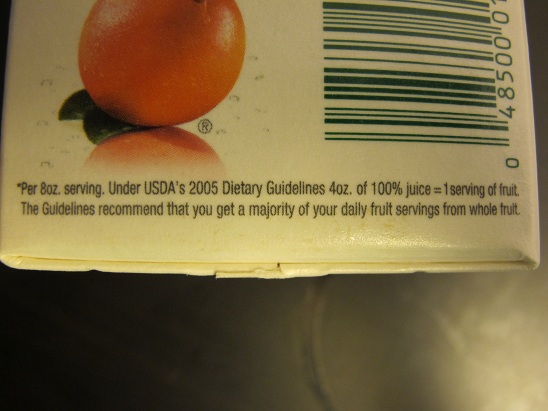 I've retyped it in case it's still too small to read. It says:
*Per 8-oz. serving. Under USDA's 2005 Dietary Guidelines 4 oz. of 100% juice = 1 serving of fruit.
The guidelines recommend that you get a majority of your daily fruit servings from whole fruit.
So let me get this straight. When they say "2 SERVINGS OF FRUIT," they mean at least two servings of fruit are in this carton. If you drank all 14 ounces, what the nutrition information refers to as 1 serving, you'd really be getting 3.5 servings of fruit, according to the USDA 2005 Dietary Guidelines, or, in my case, more than my entire daily requirement of fruit. Well at least they are clear and up front about it.
Oh, and by the way, it would really be better if you ate actual fruit instead of drinking this juice. So nice of them to let us know that.