Meal Photo-Blog, Tuesday, Jan. 4: Dinner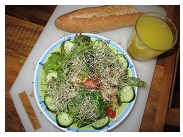 A salad dressed with olive oil and salt; whole-wheat baguette slices; and homemade seltzer with a little orange juice.
Can I tell you about my favorite olive oil ? It's from Frankies 457 restaurant in Brooklyn. (Yeah, that's the punctuation. It's two Frankies, no possessive.)
Yes, it's expensive. But I used to buy small bottles of less expensive oils, use them twice, and then they would go rancid. We use every drop of Frankies' oil — it can take a month, or longer, to go through a 1-liter bottle. The taste is phenomenol every time. It's got a little kick to it, but eating it actually makes you feel good.
OK, commercial over (sadly, I have no financial affiliation with Frankies).