Is iOS 9 Sucking Up All Your Data? Turn Off This New iPhone Setting Right Now.
Alongside split-screen apps, Apple News, better Maps, and improved battery life, iOS 9 has a new feature: WiFi Assist. When your wireless Internet connection is poor, your iPhone will compensate by switching back and forth between cellular and Wi-Fi, improving the experience of using the Internet.
In Settings, Apple describes WiFi Assist as letting users "automatically use mobile data when WiFi connectivity is poor." While this is fine in theory, some users are seeing dramatic increases in data use without changing their browsing habits. While many users have seen a small increase in use—around a gigabyte—others have seen a jump from 1GB to 7GB since updating to iOS 9. The issue was first spotted by Quartz.
Switching off WiFi Assist can fix these problems, thought it does come at the detriment of a reliable internet connection when using Wi-Fi. To switch it off, go to Settings > Mobile Data and scroll all the way to the bottom where "WiFi Assist" is located and toggle it off. If you're in the U.S., go to Settings > Cellular and follow the same steps.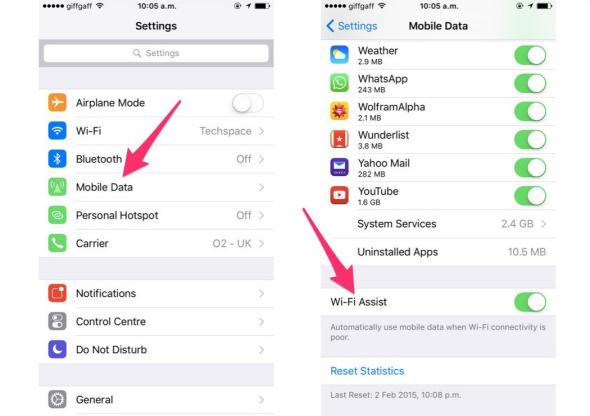 Having WiFi Assist on by default is a deliberate choice by Apple, which seems to be aware of the problem.